I named my blog "The Pie Lady" because it describes me on many levels. I grew up eating my grandmother's pies that she made in big deep ceramic pie plates, loaded with blackberries that my sister and I would often pick for her. I can remember Mamo sending us out with a huge Tupperware bowl and being ordered to fill 'er up. We would come back to her, thinking what we had picked would be plenty. "Nope, more", she would say, and we would grudgingly walk down the street to pick more. We would do it with minimal complaints, because Mamo makes the best blackberry pie known to man. Don't even try to argue with me on this one. She just does. I'm still not sure what she does to it that makes it so good- perhaps it's the copious amount of fresh Washington blackberries and the loving touch that can only come from my dear little granny. My Mom's apple pie is also incredible. She clipped the recipe from a newspaper article sometime in the late 80's and it's been a favorite of mine ever since (though she never makes it anymore! Ahem- MOM!). Pie is my favorite dessert- good old double crust fruit pie with a big scoop of ice cream. You can keep your fancy pants tortes, tarts, trifles, and terrines. I'm sure they're delicious, but I'd rather have pie. If I had to live in a chocolate-less world, that'd be just fine if theres pie. I make a seasonal fruit pie daily at work, and judging by the way it sells, I am not the only one of this opinion. A few months before I gave birth to this blog, my friend
Lesa
and I were taking advantage of my employee discount at the restaurant. She ordered the
bing cherry pie
, took a bite, and said "Britt- you are the pie lady." Thus, the idea for my blog was created.
Bartlett Pear Scones
But there was a time, many moons ago, when dubbing me The Scone Lady would have been more accurate. First, at the old Greet Cat Cafe (may the Green Cat, beloved by many a vegan hipster in Seattle, rest in peace) where the recipe for their vegan scones was handed over to me. These were just damn good scones. Vegan or not- people loved them. When the business was sold and became Local Cafe, I was asked to stay on as pastry chef and brunch cook. Local was decidedly vegan un-friendly. I morphed the scone recipe into a buttery version and they were an even bigger hit- what a shock, people like butter. One day, a young couple looking to open a wholesale bakery out of the kitchen of their movie/dinner theater stopped in for a scone. I week later I was offered the job of running the bakery. Aching to get back into full time pastry, I accepted. For 2 years, these scones were a major part of my life. At 1:30 am, I would clock-in and start producing 200-300 of these guys for the coffee houses.
I've been out of the bakery gig since March and I couldn't possibly love my current job more. But sometimes, because I am insane, I do miss the graveyard life. listening to the BBC all by myself at Oh-God O'clock chugging Rock Star energy drinks(ew, I know) and digging my hands deep in pounds of soft, sticky scone dough. It was the ultimate in baking zen.
I'm now working a 9-5 shift with a big group of crass cooks...and I love it to pieces. I love my co-workers to pieces. They make kind gestures like setting aside a bit of the family meal they are serving that night before putting it out for the waitstaff. They box it up all neat and tidy, complete with a hello note, and put it in my pastry fridge labeled "Britt's lunch." It's the little things that matter to me. Oddly enough, even though I work in a restaurant, it's hard to make yourself something to eat. Theres plenty of "ingredients", but I rarely have time to actually cook anything for myself. Plus, I am constantly tasting my product, which means nothing but sugar in my tummy- not good. I get fooled into thinking I'm full, when really all I've had is little bites of empty calories and caffeine. Packing a lunch is just plain silly. Why bring sand to the beach? I've had this problem for going on 10 years. This is the first time I've had co-workers that recognize that. Today, having a nectarine leftover from the weekend dessert special, and a perfectly yellow bartlett pear sitting in the fridge, I decided to both satisfy a personal urge to go down scone-memory lane, and show my adoration to my fowl-mouthed compadres. I spent my lunch break in the kitchen, rather than on my derriere, making fresh buttermilk scones and munching on last night's root vegetable casserole.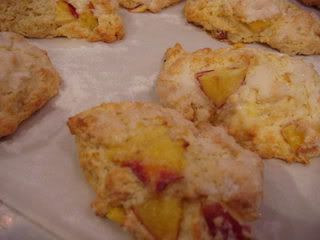 Nectarine Scones
The boys arrived at 2 pm, to a couple of plates of scones, a few crocks of butter, and a fresh pot of coffee.
"who are these scones for?"
"They're for you guys, and that coffee is fresh too."
"Fuck Yeah!"
...Fuck Yeah. Thats all I needed to hear to know they appreciated the goodies, and to secure the tradition of leaving me lunch.
This is the basic recipe for buttermilk scones. I'm not going to go into great detail on the procedure, because a huge part of the scones outcome results from finesse in handling the dough. That is difficult to describe. Just pulse up the dry ingredients with the butter until it's crumbly,dump it into a bowl, add the egg and buttermilk, and mix gently- I use a bowl scraper to mix, or my hand. Fold in the fruit, pat the dough out onto a work surface, and cut it into 12 to 16 triangles, depending how big you want them. Bake at 350 until golden brown and firm to the touch. If you can pull off biscuits, these will be a cake walk.
Buttermilk Scones

4 cups all purpose flour
1/2 cup sugar
1/2 tsp salt
1/2 tsp baking soda
4 tsp baking powder
5 oz. cold unsalted butter, cut into cubes
1 1/3 cup cold buttermilk
1 egg
1 cup fresh fruit, diced
*for more in depth instructions on scones, and a variation of the buttermilk scone, see the
everbearing strawberry post
.*