...And a"last crop"nectarine tart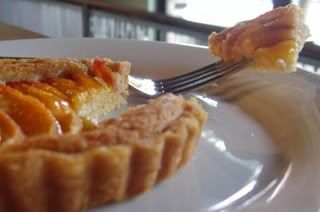 Last Thursday was it. It's done for the year. The small, but charming Queen Anne Farmers Market made it's debut this June and was an instant hit with the locals. Especially me. I found out that Queen Anne would finally have it's own market the month we were opening up the restaurant, which was in May. Luckily for us, it's location was to be just a few blocks down the street. Immediately, the idea for a weekly series of dessert specials bloomed in my head.
The last week of June this year, the market opened, and my idea took fruition. "Queen Anne Farmer's Market Finales" made it's own debut on my dessert menu with perfect, fresh raspberries from Jesse's Berrie's in Yakima. They were piled on top of freshly churned greek frozen yogurt, drizzled with local lavender honey, and sprinkled with sugared pine nuts.
I walked down the street after work on the first day of the market with the intent to pick up whatever looked the most beautiful, take it back to the restaurant, and create a dessert special for the weekend revolving around whatever I came back with. I did this every week all summer long. Plump, ready to burst, apricots from Bill's Fruits in Puyallup were transformed into a creamy, yet puckery apricot ice cream. Several trips back to Jessie's Berrie's resulted in a fragrant black raspberry compote draped over a layered lemon curd mousse cake, homey blueberry cobbler with lavender ice cream, Ricotta bavarian cream topped with tiny sweet strawberries and balsamic syrup, and my personal favorite: warm blackberry turnovers served over a thick pool of white chocolate-orange creme anglaise. Making each dish was a chance to experience my craft in the most organic way. Picking out fresh, just picked local fruit in the peak of it's prime, and turning it into a spontaneous dessert that celebrates it's flavor, all the while establishing relationships with local farmers.
This last Thursday, I walked my final walk of the year to the market thinking fall. Perhaps I can find some nice ripe pears to brush with honey butter while they bake onto a round of puff dough. Or maybe they will have some acorn squash for little individual pies. I strolled through the stands somewhat unimpressed by it all. Pears were not very ripe, plums are pretty much gone, and the squash selection was kind of lame. I was feeling uninspired when I came across the last stall. Batista Farms had their last crop of nectarines piled up in their yellowy-pink glory and looking like they wanted to go home with me. Naturally, being that it's October, I was a little wary of their quality. Then, I tasted one.....Whoa! They had a smooth, buttery texture that melted in your mouth- and a flavor that screamed Summer at a blustery autumn day. The next morning, they were turned into a warm nectarine almond tart served simply with a scoop of vanilla bean ice cream and bits of marcona almond brittle
with a scoop of vanilla bean ice cream and marcona almond brittle
This buttery rich tart is nothing more than a flaky pate sucree tart shell, filled with
frangipane
and topped with fresh sliced fruit- I used nectarines this time, but plums, pears, and pitted bing cherries are also delicious. The tarts are then baked until golden and puffy. You end up with a rich, but not too sweet almond filling and perfectly textured fruit who's natural sugars help to create a glazed appearance.
It seems too early to be wrapping up my dessert special series, which was the highlight of each week for me this summer. There are all kinds of goodies coming our way with fall's harvest, which is why most farmer's markets are open through the month of October. But, I am thankful to of at least had a market in my neighborhood this year. So- to Jessie's Berries, Acma Orchirds, Batista Farm, River Valley Ranch, Sidhu Farm, Foraged and Found, and all the other local farmers I had the privilege to visit weekly; thank you for making my job easy with such beautiful produce, and see you next year!