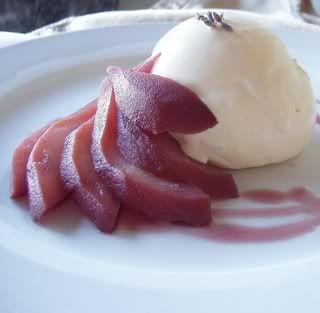 My entry: White chocolate-lavender ice cream with merlot poached pears
Every month, Jenn, the lovely
leftover queen
hosts a Royal Food Joust over on
the leftover queen forums
. Whoever wins the challenge from the previous month, gets to pick the three ingredients for the next challenge. Everyone comes up with a dish including all three of these ingredients. Congrats to Meghan, who won lasts month's challenge of chipotle, buttermilk, and zucchini with her zucchini stuffed chicken breasts with buttermilk chipotle sauce. She chose white chocolate, lavender, and pears for this month's joust. Head on over to the forums to see every one's scrumptious entries and vote for your favorite!
At first, I had a hard time coming up with what I wanted to do with this. I was eager to participate because I really don't like white chocolate. Coming up with a dessert showcasing it, that I would actually eat is just the type of challenge I'm up for. I knew this could be done- when one handles the White chocolate delicately and pairs it with the right flavors, it can be pretty delicious. Lavender was a merciful addition on Meghan's behalf. It is one of those things that just belongs with white chocolate. It cuts the sweetness and adds a deeper, more complex flavor to it. Had she not included it in the ingredients, I would have thrown it in there anyway. It was the pears that were stumping me. They are a great choice this time of year, but with white chocolate? Hmmmmm......
After some head scratching, I decided on a mildly flavored white chocolate lavender ice cream served with a side of spicy merlot poached pears. I am pleased to announce that the pears work beautifully with the ice cream. The contrast of the strong flavored, peppery pears against the creamy and cooling ice cream is a winner. Great picks Meghan!
White Chocolate Lavender Ice cream- makes about 4 cups

2 cups heavy cream
1 cup whole milk
1 tsp culinary lavender buds, crushed slightly
5 oz. white chocolate
5 egg yolks
2/3 cup sugar
pinch sea salt

Bring the cream, milk, and lavender to a boil. Turn off heat, cover, and let sit for 30 minutes. Meanwhile, chop up the white chocolate and place in a small bowl. In a separate, larger bowl, whisk together the sugar, salt, and egg yolks. Once 30 minutes is up, bring the lavender infused dairy back to a boil. Ladle about 6 oz. of the hot dairy over the chopped white chocolate. Pour about 6 more oz. over the eggs, whisking them constantly. Pour the now tempered eggs into the pot with the rest of the dairy, and cook over med-low heat, stirring constantly wit a heat tempered spatula. Make sure the spatula never leaves the bottom of the pot, or the eggs will curdle. Once the custard base is thickened enough to coat the back of a wooden spoon, strain it into a fine mesh sieve into a bowl. Stir the white chocolate-cream mixture until mostly smooth. Pour mixture into the custard and stir to combine. Nest the custard in a larger bowl filled with ice cubes and water. Once the custard is completely cold, churn it in an ice cream maker following the manufacturer's instructions.

Poached Pears

2 cups decent merlot. (nothing too expensive, but you want it to be something you'd be willing to drink on it's own)
3/4 cup orange juice
1/2 cup sugar
1 fresh bay leaf
3 peppercorns
1/4 of cinnamon stick, crushed
1/4 of a vanilla bean, split and scraped

2 bartlett pears, ripe but still firm

Peel and cut the pears into quarters. Place them in acidulated water while you combine the rest of the ingredients in a large pot. Bring to a full boil, then drop in the pears and turn off the heat. Use a tea towel or smaller pot lid to submerge the pears in the liquid, or they will not poach correctly. Let sit until the pears are tender to a paring knife. Transfer pears and liquid to a shallow pan and refrigerate.

To serve

Put 4 plates in the freezer. Drain pears on paper towels while reducing the poaching liquid until syrupy.
Drizzle the reduced liquid on the frozen plates. Place a big scoop of the ice cream over the liquid and fan out pear slices around it. Garnish with lavender buds (though I didn't have much! My plant is suffering in the cold!)