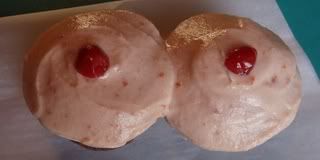 a nice pair...sorry, I couldn't resist.
Chocolate Cherry Cupcakes
As you can see, I'm getting my blog events out of the way for October.
The Boobie Bake-off
is hosted by Marye at
Apron Strings and Simmering Things
and requires that we all bake something pink in honor of
Breast Cancer Awareness Month
. The super cool part is that readers can donate $1 to vote for their favorite on October 31st. All proceeds will be donated to breast cancer research in the winner's name.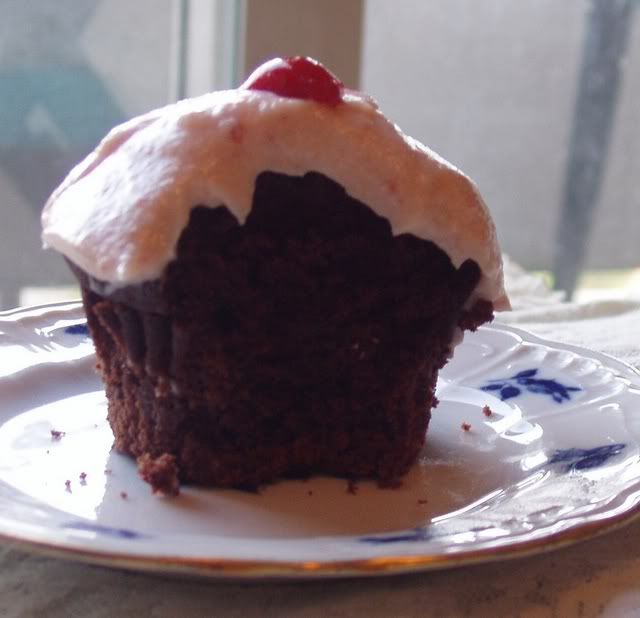 I am so 7th grade. I really wanted my pink entry to look like boobs. I know there is nothing funny about breast cancer, but who says we can't have fun while promoting awareness? Another personal rule I gave myself was to leave food coloring out of the equation. With those guidelines, I came up with a deep chocolate cupcake, topped with a sour cherry-cream cheese icing. I used my "old stand-by" chocolate cake recipe, David Lebovitz's candied cherries, and a cream cheese icing from the top of my head. Turns out, they're really good too. I can't say I was crazy about the way they looked though. Pink, though they were, the texture of the icing is just a tad bit runny. Not so much that it hurt the outcome of the cupcake, but I was hoping for a stiffer consistency so I could pipe it into big rosettes. Sadly, the pretty picture in my head did not match the cupcake before me. Having said that, they were so tasty that I ultimately did not care. Plus, they totally look like boobs.
Fudgy Chocolate Cupcakes adapted from Richard Sax's Classic Home Desserts
Makes 24 small cupcakes or 12 Large
1 3/4 cups all-purpose flour
3/4 cup plus 3 T cocoa powder
1 1/4 tsp baking soda
1/8 tsp salt

3/4 cup softened butter
2/3 cup sugar
2/3 packed brown sugar

2 large eggs
2 tsp vanilla extract

1 1/2 cups buttermilk

Pre-heat the oven to 350 degrees. Line muffin tins with paper cups or grease with pan spray. Sift the dry ingredients together onto a sheet of was paper.
Cream the butter and sugars together with an electric mixer on med-high speed. Add the eggs one at a time, beating thoroughly after each addition. Lower the speed down to low and add the dry ingredients alternately with the buttermilk in 3 additions. Divide batter amongst the prepped muffin tins and bake for 18-22 minutes.
Candied Cherries adapted from David Lebovitz's The Perfect Scoop
1 # sour cherries, fresh or frozen
1 1/2 cups water
1 cup sugar
1 T lemon juice
1 drop almond extract (but I use 1 tsp amaretto)

Heat everything but the almond flavoring in a large sauce pan. Stir until the sugar dissolves, then bring to a boil. Turn down heat and simmer for about 25 minutes, or until the juice is syrupy. Cool then stir in almond flavoring.
Sour-Cherry Cream Cheese Frosting
8 oz. soft butter
5 oz. room temperature cream cheese
1 cup sifted powdered sugar
1/2 cup candied sour cherries, strained and chopped, juices reserved

Cream together the butter, cream cheese and sugar until smooth and fluffy. Add chopped cherries and mix. Slowly add about 2 or 3 tablespoons of the sour cherry juice for pink frosting, or omit it for a sturdier frosting.
Smear on cooled cupcakes