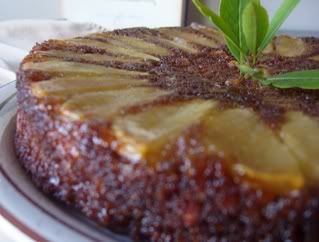 Nighthawk Applejack Cake
Oh what a perfect theme for my mood today. It's been a rough weekend- physically at least. It all started at work on Saturday morning when I was peeling apples for a pie and accidentally peeled off most of the nail on my middle finger. It's now hanging there by a thread. If you have done this before, you know that not only does it hurt, but it also kind of gives you the heeby jeeby shivers. Later that day, as I was adding the butter to a dry caramel, I foolishly just threw it in there. Hot caramel came splattering at me, resulting in about 9 huge burns on the inside of my palm and forearm in about half a second. I know, caramel is really hot and can cause the most painful burns. Why did absent mindedly toss that butter in? I Dunno.
And finally: My mom and I went to Crow last night for dinner and a bottle of wine....and a really stiff cocktail...or was it two? Working at Betty gives me an employee discount there and I live a block away. Perfect excuse to order lots of booze. It will be cheap an I can walk home. Well- on my drunken walk home, I tripped and fell, skinning the hell out of my knee. Why does this hurt so much more than I remember skinned knees hurting as a kid? I can barely friggin' walk today. My nice pants now have a big ugly blood stain on them. Good thing I live in a quiet neighborhood and nobody saw. That would have hurt more.
Oh yeah- my husband made me watch Transformers with him when I got home. I think that was more painful than all three injuries combined.
Apples, booze, and a naughty kitty
I woke up this morning having all sorts of laundry and chores to do, but all I felt like doing was hanging out in the kitchen and soothing my aching body with some sort of cake. I got on the computer, looking for something to do with these goregous local Newton Pippin Apples I had sitting on my counter. Then, I found myself visiting a blog that reminded me of
Sugar High Friday
and it's deadline, which is today.
Hosted this month by
SpittoonExtra
who chose apples and booze as this months theme, I knew I had found my project for the day. I've been wanting to make the Nighthawk Applejack Cake from
The Northwest Best Places Cookbook
and now I had the perfect excuse. This is an upside down style cake from The Breadline Cafe in Omak, Washington.
It's really simple to put together and it's ingredients are all pantry staples. The finished product is a really moist (due to the batter being mostly chopped apples), gooey, Yukon Jack laced treat. The best part is that this cake needs no embellishment whatsoever. Let it cool for 10 minutes in the pan, then flip it out, dowse it in Yukon Jack, and serve. Ice cream or whipped cream, in my opinion, would just tame the tangy apple and whiskey flavor. It's the dessert version of a beverage my parents used to drink while we were on ski trips: "Apple Jacks" or as they used to call it- "courage"- Yukon Jack and hot apple cider. I was of course a child and could not partake in the libations, but I remember the smell of the sweet cider hitting that whiskey and wishing I could just hurry and become a grown-up.
Nighthawk Applejack Cake adapted from The Northwest Best Places Cookbook

1/2 cup butter, melted
1/3 cup packed brown sugar (I used dark brown)
3 medium sized tart apples (I used Newton-Pippens and highly reccomend them)
1 cup granulated sugar
1/2 cup chopped nuts (I used walnuts & I toasted 'em first)
1 egg, lightly beaten
2 Tbl. Yukon Jack whiskey, plus more for serving
2 tsp. pure vanilla extract
1 cup all purpose flour
1 tsp baking soda
1/2 tsp salt

Preheat oven to 350 degrees. Grease an 8 or 9 inch cake pan (* put a circle of parchment paper on the bottom of the greased pan to be safe). Combine 1/4 cup of the melted butter with the brown sugar. Stir to mix well. Pour into the cake pan. Peel, core, and thinly slice one of the apples arrange the slices on the bottom of the pan. Set aside.

Peel, core, and coarsley chop the remaining 2 apples and put them in a large bowl with the remaining 1/4 cup of melted butter, egg, yukon jack, granulated sugar, nuts, and vanilla. Stir to mix.

Sift the dry ingredients together, then stir into apple mixture until combined. Pour batter into the cake pan and bake until a toothpick inserted in the center of the cake comes out clean, about 50 minutes (* Mine only took 35 minutes and my oven is pretty accurate- keep an eye on it)

Allow the cake to rest for 10 minutes, then carefully turn it out onto a serving plate. Lace the top with a generous splash of Yukon Jack and serve.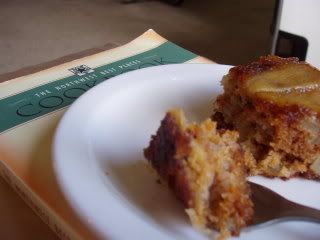 Sugar High Friday was just what I needed today. I still hurt, but this cake sure made it better. And now to go dowse myself- in peroxide...and maybe a swig of the leftover Yukon Jack...