My retro offering to The Candy Man: Whoopie Pies
When I saw the big picture of Sammy Davis Jr. on
dolores' blog
announcing the theme of this month's
Retro Recipe Challenge
, which she is hosting, I knew I was going to have to be in on this one. Not only is the super cool Sammy Davis our spokes model for the event, but the theme is something I am somewhat familiar with. Sugar! Yup, in honor of Halloween, Dolores has picked "the candy man" for October. Rules: The entry must be from a dessert recipe published before 1980.
A while back I picked up Betty Groff's
Pennsylvania Dutch Cookbook
which is filled with all sorts of recipes for RRC's. For full disclosure, the book was actually published in 1990, but contains a collection of non-revised "hand-me-down" recipes from generations of cooks from Lancaster County, home of the Pennsylvania Dutch community. This book is chock-full of good old, hearty farm cooking. Including Whoopie Pies. "Perfect!" declared The Pie Lady.
A
Whoopie Pie
is basically a fluffy, white frosting-like filling, sandwiched between two discs of chocolate cake. No one really knows exactly who came up with the first one, though it is rumored to have been born in the 20's in Massachusetts. Fillings can range from store bought marshmallow fluff, to light meringue based buttercreams. My whoopie would be the latter.
I followed Groff's recipe, for the most part, to the letter. My only revisions are substituting unsalted butter for any margarine or shortening. Recipes written in times of yore are sometimes a little difficult to follow. It seems like they are rarely as precise as modern ones, so ones sixth "kitchen" sense is required when working with them. This one is no exception. Several key instructions are missing, such as the necessary temperature of your ingredients. That is why these retro challenges are so fun! They're challenging!! Anyhoo- I'm posting the recipe as written, but if you have any questions, feel free to post them as comments and I'll be happy to answer them the best I can.
Whoopie Pies

1 cup shortening or Margarine........(use butter instead, you won't be sorry)
2 cups granulated sugar
2 large eggs
3 1/2 cups all purpose flour
1 cup unsweetened cocoa
2 tsp salt
2 tsp baking soda
1 cup buttermilk
1 cup hot coffee

Filling:

2 egg whites
1 T vanilla extract
1/4 cup milk
2 cups powdered sugar
1/4 cup all purpose flour
1 cup vegetable shortening
1/4 pound butter

Cream the shortening* and sugar together in a large mixing bowl. Beat in the eggs, one at a time. In another bowl, sift the flour with the cocoa, salt, and soda. Gradually add this to the creamed mixture alternating with the buttermilk. Mix in the hot coffee. Drop the batter in spoonfuls onto greased cookie sheets, spacing them about 3 inches apart. Bake in a preheated 375 degree oven for 8 minutes. Store on wax paper until all the cookies have been baked.
For the filling, beat the egg whites until fluffy. Gradually beat in the vanilla, milk, sugar, and flour. Add the shortening and butter (Brittany sez: butter should be @room temp.) and beat until very fluffy. Take one cookie and spread a generous tablespoon on the flat side. Top with another cookie; they should look like yo-yos. They freeze well if wrapped individually.

*or unsalted butter, at room temp.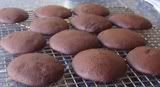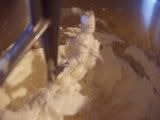 Final Verdict: Well....the cake part is really good, and stays nice and soft when frozen. I used good cocoa powder, and butter. The filling reminded us of a the middle of a hostess cupcake. To the husband, with his effed up taste in desserts, that was just fine. I would have preferred a simple, but delicious buttercream. I would absolutely make these again using different variations of icings and spreads. They are basically just tasty and portable little cakes which can be filled with whatever your heart desires. Smear them with ganache or nutella for a decadent whoopie. Cut the sweetness of the chocolate with dollops of creme fraiche of whipped cream for a lighter whoopie. The possibilities are endless, which makes me glad that I have leftover cake discs.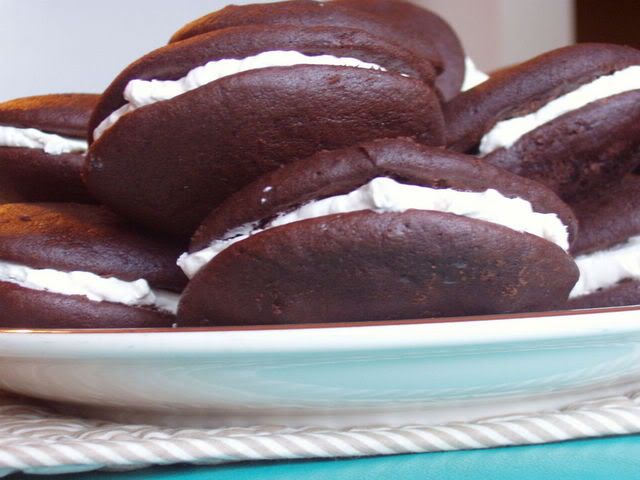 Be sure to check out the Candy Man
round up
On October 31st to see all the cavity endusing entries!