Taking pictures of the food at this event was a complete afterthought. I had been drinking wine and making no attempt at capturing a quality photograph. Just fucking deal with it. Sorry if your eye balls start to hurt.
September is birthday month in my family. My husband Trevor had his 30th on Sunday, and my sister
Brooke
had her 27th on Friday. This year, my parents hosted the annual double birthday party with their "Joint Effort Lasagne". My dad is somewhat famous for his meat sauce. Pork and beef are lovingly ground in his own little meat grinder, then he drinks what is left from the bottle of red wine needed for the sauce while it simmers away*
* I'm pretty sure his recipe calls for about a cup. Leaving him with plently of happy-happy-joy-joy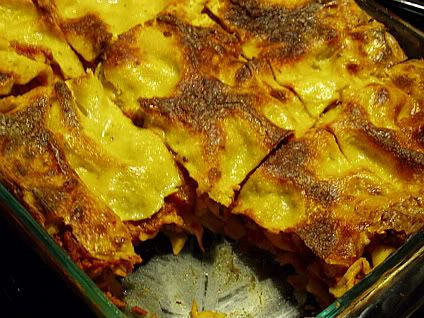 Ricotta has no place here. We are a "strictly bechamel" people.
We also forget to turn off the flash.
Mom covers the rest of the prep, whisking up the bechamel (ricotta, while tasty in and of itself, is slanderous in their lasagne, as it should be in everyone's.) making the pasta, and layering it all together. She also takes care of the required giant caesar salad and caprese, for an Adams Family Lasagne Feed is not complete with out these valuable supporting roles.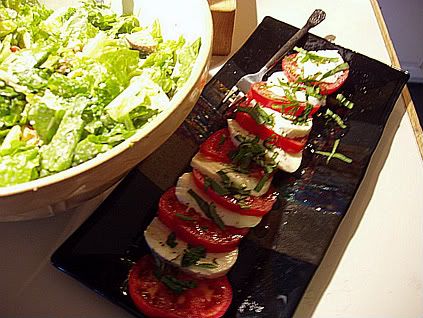 Tomatoes picked from mom's garden minutes before making the salads- you can't see the candy-sweet sungolds in the caesar, but they're there, making it the best goddamn caesar ever....am I spelling caesar correctly?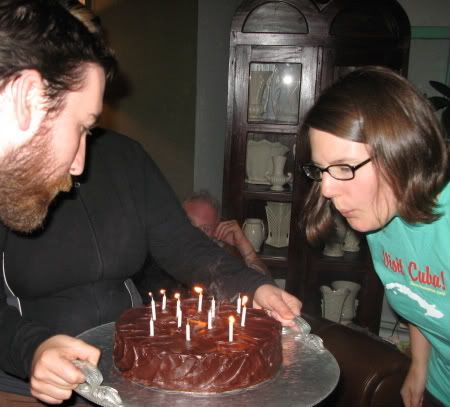 Brooke and Trevor, both being very diplomatic and sharing the happy birthday song and candle blowing out ceremony. Personally, I prefer to be the center of attention and would hate it if my stupid brother-in-law was in the way. Brooke, you truly are and selfless being.
I made a triple layer chocolate cake iced with ganache and vanilla bean ice cream. We all made gluttons of ourselves, Trevor drank a healthy portion of the growler of beer Brooke and CK gave him, then we all went home early and passed from food comas.
It was a good day.
I should also mention that this here blog celebrated it's first birthday this month. Time has flown by, as I still feel like a complete noob at this whole food blogging movement.
Happy birthday the pie lady. Thanks y'all for reading.