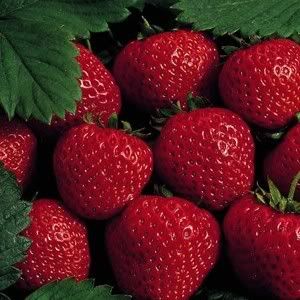 It's suddenly fall here in Seattle. It's been raining all week and the breeze has a chilly sting to it...though I am surrounded by ovens, I froze my butt off at work today. That's fine by me- fall is beautiful here in the Pacific Northwest. All the cool apple varieties are showing up in the farmer's markets, as well as squashes, huckleberries, pears, and plums. This is my absolute favorite time of year to cook and bake. Spending a cold day in a warm kitchen, steaming up the windows with goodies from the oven soothes my soul. Having said that, this time of year there is a little surprise that awaits those who disdain the cold season. One last chance to savor the delights of what the summer's sun helped produce. The everbearing strawberry. These little lovelies are available in the late summer for just a few weeks. I always try to pick up as many as I can. A few weeks ago, I made freezer jam with the everbearing strawberry, thinking that was my last chance. Thanks to a brief late summer heat wave (that came to an abrupt halt last Friday), I was able to get my hands on one more flat. All I wanted to do with them was make strawberry shortcake. This is a dessert that I made so much of in June, that I thought I could not stand the sight of it anymore this year. At the restaurant, it was all anyone ordered. I was cleaning, hulling, and slicing strawberries for at least an hour each day to keep up with demand. My fingers were permanently stained for two months. It was the bain of my existence. Well, after having it out of my life for a few months, I suddenly missed it terribly. I needed closure. One last goodbye to summer and the exquisite Washington strawberry.
I make a fluffy buttermilk scone rather than a traditional cream biscuit. I prefer the sturdier, tangier results you get from using buttermilk. It's a wonderful counterpart to the sweet berries and rich cream. Whipped cream or creme fraiche are the obvious choices for a filling, but I went a step further and made a batch of lemon curd, then folded in whipped cream. The lemon doesn't interfere with the strawberries, it just adds a little more depth to the filling, which can often times be too sweet for my tastes.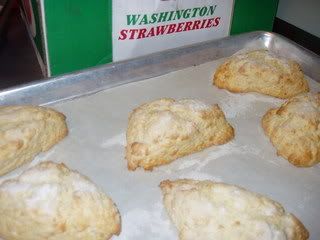 Prepping the strawberries is just a matter of slicing up only the most beautiful berries of the bunch and dusting them with a little granulated sugar. After a minute or two, the sugar dissolves and gives the berries a beautiful, shiny glazed look. The less than attractive, yet full on flavor berries are pureed with a few spoonfuls of simple syrup for a vibrant strawberry coulis to make the plate extra sexy. A little fresh mint and a shake of powdered sugar and ta-da! A dessert that will help you to properly bid summer 2007 adieu.
Buttermilk Scones (serves 16)

16 servings of strawberry shortcake is probably much more than will be needed. I recommend making the full batch of scones anyway and having them for breakfast with jam.

4 cups pastry flour
3/4 cup granulated sugar, plus more for sprinkling
1/2 tsp sea salt
1/2 tsp baking soda
4 tsp baking powder
6 oz. good quality(such as Plugra) unsalted butter, cold and cut into 1/2" cubes
1 egg
1 tsp pure vanilla extract (if you don't have the real stuff, just omit it)
1 1/2 cups buttermilk

Pre heat oven to 375 degrees. In a measuring pitcher, whisk together the egg, vanilla, and buttermilk. Put it in the fridge while making the dry mix.
In the bowl of a food processor, combine the dry ingredients. Add the cold butter and pulse briefly until the mixture is crumbly. Dump the crumbs into a large mixing bowl. Make a well in the center and pour in the buttermilk-egg mixture. Mix gently with your hand or a wooden spoon until a loose ball is formed. Turn the dough out onto a floured surface and gently pat into a long, narrow rectangle. Cut the rectangle into 8 squares. Then, cut each square diagonally so you have 16 scones. Sprinkle each one with granulated sugar. Bake on a parchment lined sheet pan for approximately 15-20 minutes, or until the scones are golden brown and firm to the touch. Cool, then split down the middle are fill with berries and cream
.