I have to admit that I am not the biggest fan of quiche. I won't go so far as to say that I hate it. I have had some very good quiches in my day- one of the jewels of this city,
Le Pichet
makes fabulous quiche. They do it right- lots of yummy meats and veggies, a light hand with the custard, and a quality buttery crust. Come to think of it, Le Pichet is pretty much one of the most awesome French restaurants in Seattle and there is little that their tiny kitchen produces that doesn't transport me to Paris with one bite.....actually, I could go for some oeufs plats and chicken liver pate right about now- with that amazing baguette of theirs....mmmmm....
What was I talking about again?
Oh yeah- quiche. And how I don't really like it that much.
So here is my beef with most quiches- they are often way too eggy with a store bought crust which no love was put into at all, and the classic spinach/mushroom/etcetera filling has me yawning at the thought of it.
Now that I have let out my little rant, I will say that I like the
idea
of quiche and/or a really good quiche (see above Le Pichet love-fest).
So here is my answer to the doldrums of quiche lorrainesville. A vegetable tart loaded with lots of veggies and just enough custard to hold the thing together.
At work, when I am feeling super nice, I save my scraps from that day's pie, pillage the walk-in for whatever veg is staring back at me, and whip up one of these babies for the boys. Three hungry line cooks will polish off a 12 inch vegetable tart in about 20 minutes... It really is an impressive sight to behold.
I am giving you a "rough outline" recipe here. Really, all you need to know is the custard base. This tart is a canvas for whatever your imagination or your refrigerator has to offer. I have made this recipe with cherry tomatoes, basil, and feta- or asparagus and fontina, or caramelized onions and Roquefort, or wild mushrooms, thyme, and gruyere....the possibilities are endless- and they're making me hungry.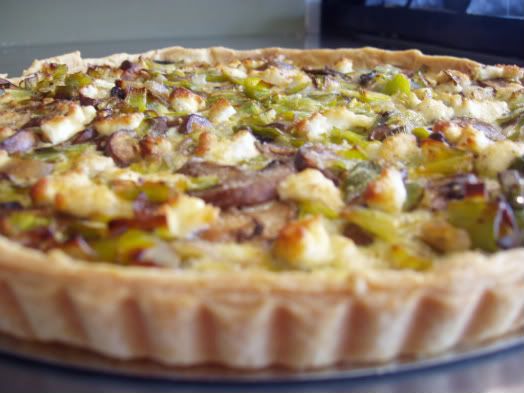 Leek and mushroom tart
3-4 medium leeks, washed thoroughly and sliced (use only the white and pale green part)
3 shallots, sliced
4 oz crimini mushrooms, wiped clean and sliced
butter and olive oil (or flavor infused oil- I used garlic) for sauteing
chopped thyme and chives
2 oz goat cheese
custard base:
2 eggs
1/3 cup half and half
1/3 cup heavy cream
salt and pepper
enough of your favorite pie dough to line a 10-12 inch tart pan (or, try a half recipe of my
all butter pie dough
)
Step 1-
For god's sake WASH your leeks! These innocent little things pack a lot of dirt along with them. Slice em first, then soak them in water. Drain and repeat until clean. Dry the leeks on a tea towel while gathering the rest of your ingredients.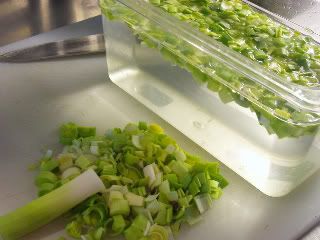 Step 2-
Saute your veggies in a little butter and olive oil. They had some reserved oil leftover from the roasted garlic hanging around, so I used that. The tart was all the better for it. Because of the different cooking times, I did the leeks/shallots in one pan, and the mushrooms in another. I don't think the world will come to an end If you just used one pan. Oh yeah- don't forget to season the vegetables with a little salt and pepper.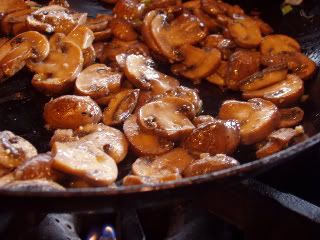 Step 3-
Pour the sauteed veggies out onto a plate to cool, then move onto the crust. Line your tart shell with the dough, then place a large piece of foil inside the dough (leave enough overhang of foil to be able to lift it out later). Fill the shell the pie weight of your choice- rice, dried beans, etc- and bake at 375 degrees for 20 minutes. Remove the foil and pie weights, prick the bottom of the crust a few times with a fork, turn the oven down to 350, and continue baking for 5-7 minutes. The shell should be pale in color, but not raw.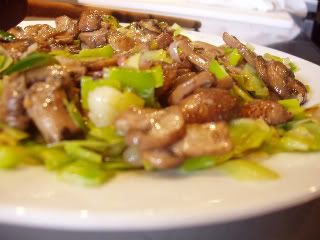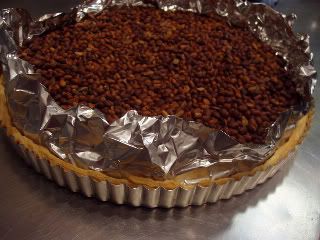 Step 4-
Put it all together. In a small bowl, whisk your eggs, cream, half and half, a pinch of pepper and about a teaspoon of salt until combined. Place your veggies inside the prebaked shell, crumble the goat cheese over the whole thing, then slowly pour in the custard. Bake for 20-25 minutes at 350 degrees, until eggs are set and the tart is slightly puffy.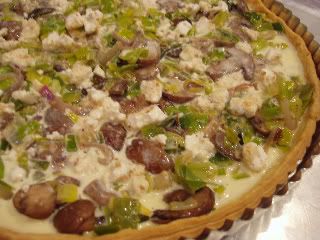 Cool the tart for a few minutes, then slice and enjoy. Safety note: when feeding hungry boys, keep your limbs out of the way. They could be consumed in the feeding frenzy.