I have this ghetto cookie cookbook that materialized in my collection. I have no idea where is came from, and it certainly isn't one I would make a point in purchasing. It is simply titled "Cookies", and is one of a series of books from The Cook's Encyclopedia. I was dusting my bookshelf today (yes! DUSTING. I was shocked too.) when I stumbled upon it. I started flipping through the book and came to the decision that it was a piece of crap and it needed to be donated. Then I saw Brittany Butter Cookies.
My name is Brittany and I like butter. I am also ardent supporter of cookies. I put down my dust rag and took off the protective bandana wrapped around my face like a gas mask (yeah, it's been
that
long since I last dusted) and wondered into the kitchen to bake these.
side note- as I type this post, it is 50 degrees and pouring down rain. I need cookies to counteract the seasonal depression that is rapidly setting in. Any one thinking of moving to Seattle should keep that in mind.
This is a really simple recipe for what turned out to be a beautiful little cookie. Similar to shortbread, but much richer- and a great canvas for showing off a good quality European butter. Sadly, all I had was plugra, a butter that is made in the US (Wisconsin, I believe), but snootily parades around like Euro butter. The "Madonna" of butter, if you will. If you have a kick ass Normandy or Irish butter sitting around I suggest you put it to work and make these. They're especially good with a dollop of jam and a cup of tea.
And such a breathtakingly beautiful name.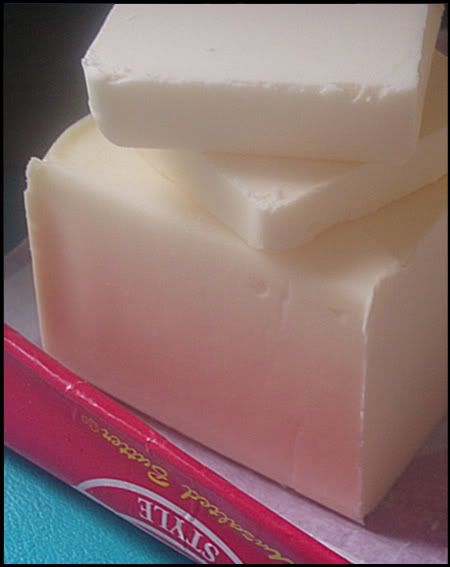 Butter. Sweet, glorious butter.
Brittany Butter Cookies
adapted from The Cook's Encyclopedia of Cookies
makes about 18 cookies
3 egg yolks
1 1/2 Tb milk
1 cup + 2 Tb all purpose flour
1/3 cup sugar
4 oz butter*
healthy pinch of kosher salt (my addition)
*recipe did not state the temperature of the butter. I suggest cold from the refrigerator, but sightly softened (let stand at room temp, cut into cubes for 10 minutes or so)
Mix about 1/2 Tb of the egg yolks with the milk in a small bowl to make a glaze. Set aside.
Sift the flour and sugar into a bowl. Add the salt and mix together with a whisk. Add the egg yolks and butter (in the center of the bowl) and work the two together with your hand until it becomes creamy.
Gradually bring the flour into the middle of the bowl until it all forms a slightly sticky dough*
*This takes a while and I don't see why it couldn't be done in the food processor. But these are "folksy cookies"- enjoy the zenfulness of kneading.*
"OM"
Achieve baking nirvana. Get up in there and knead
Stop kneading when you have a lovely yellow blob like this.
Using floured hands, pat out the dough to about 1/4 inch thick** and cut out using a
2-1/2 inch cutter.
Transfer to parchment lined sheet pans and brush each cookie with the egg-milk glaze. Using a steak knife (or whatever), score to create a lattice pattern.
**They're really taking the whole rustic farm cookie thing a step too far with this. The cookies will turn out much better if you behave like upright man and use a rolling pin**
Bake at 350 degrees for 12-15 minutes (Mine took 17 minutes. but I despise under baked, anemic looking, shithole pastries).
with last year's strawberry freezer jam. The odds of my being able to make a batch this year diminish one blustery day after another.
Sniffle.
Cool on a wire rack, then enjoy on their own. Or if you are living in an area that summer forgot about, have some tea and jam as well.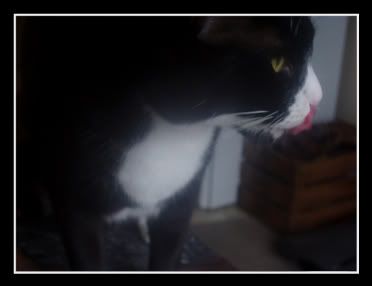 Percy got into some butter and is now wondering why the fuck he has to eat kibble while humans lavishly smear everything with this delicacy.