It's been waaay too long since I royal foodie jousted. I just have to say this- don't hate me- but the term "foodie" kind of grates on my nerves. I don't blame people who use the word. It's whoever came up with it who'd ass I'd like to kick. I know I'll probably receive hate-mail for that, but it's my blog and I can say whatever I want.
You know what I love though? I LOVE Jenn,
the Leftover Queen
(who is recently married to the leftover King, Roberto- they are such a
gorgeous couple
. Their kids will be so hot) and her
forum
, where the monthly royal foodie joust occurs.
Last month's winning
entry
, submitted by the hilarious and fowl Michelle at
Thursday night smackdown
will be hard to follow. But she picked some pretty awesome ingredients for us to work with this month: Mango, Cardamom, and Brown Sugar- as well as the instructions "I want to see your mad pastry skillz".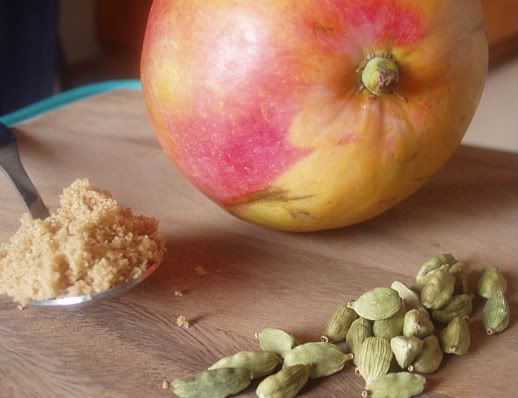 Here ya go Michelle. I have submitted a very pie lady entry: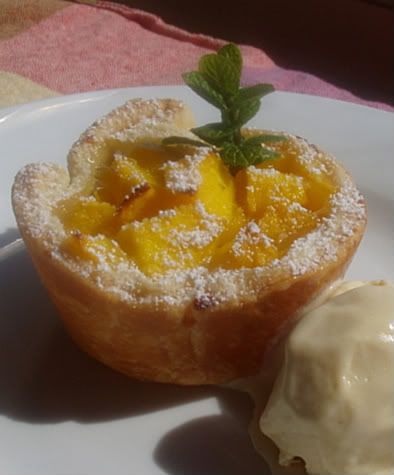 Little Mango Pies with Brown Sugar-Grand Marnier Ice Cream
The hands-down best part of this dessert was the ice cream. I must try it with chocolate cake some time. Making new discoveries for my dessert menu is one of the main reasons why I participate with these events. I'm thinking a scoop of this atop a warm flour less chocolate cake would be pretty orgasmic. Don't you?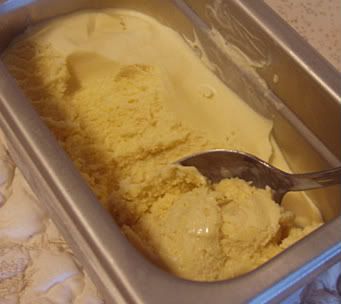 Pie Dough:
1 cup pastry flour
4 oz cold unsalted butter, cut into cubes
1/2 tsp sea salt
2 T vodka
2 T ice water
In a food processor, pulse up the butter with the flour and salt until butter is the size of peas. Add the water and vodka and pulse briefly until flour is moistened. Dump contents out onto a work surface and frisage into a disc. Chill overnight, or for at least 3 hours.
Roll chilled dough out on a lightly floured surface and cut into 6 4 inch circles (I used a cookie cutter). Chill dough circles until ready to use.
Mango Filling:
2 ripe mangoes
1 T fresh lime juice
3 T sugar
1/4 tsp ground cardamom
1 tsp cornstarch
Cube up the mangoes and toss with the remaining ingredients.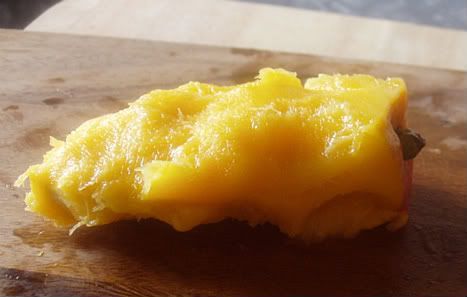 don't forget to gnaw on your mango pit. And don't forget to floss afterwards
Assembly/Baking:
Ease the dough circles into small muffin tins (no need for pan spray- there is enough butter in the dough for it to release on it's own). Divide mango filling amongst the dough-lined compartments. Bake at 400 for 15 minutes. Turn oven down to 350 and continue baking for 35 minutes.
Ice Cream:
2 cups whole milk
1 quart heavy cream
1 1/2 cups dark brown sugar
12 egg yolks
1/2 tsp sea salt
2 oz grand marnier
Whisk together the yolks and salt in a large bowl and set aside.
In a large pot, combine the brown sugar with the milk and cream. Heat slowly, stirring occasionally to dissolve the brown sugar. Once sugar is dissolved, turn heat up and bring to a boil. Slowly temper into the yolks. Return mixture to the pot and continue cooking over low heat, stirring constantly with a heat-proof spatula, until mixture thickens. Strain into a container and place in an ice bath to chill. Once cold, stir in the grand marnier and churn in an ice cream maker according to manufacturers instructions.