Pear Riesling Sorbet
Happy Thanksgiving!!
I love Thanksgiving, it's my favorite holiday. Trevor and I have a tradition of keeping it a "just the two of us" event. Big family Christmas parties are just around the corner, so it's nice to relax and have a nice dinner for two- and then survive off the leftovers for the week and a half to follow.
Just because it's a small party, doesn't mean it's not a raging party. I bust out the nice dishes, set the table all Martha-like, light candles...the works. We just happen to celebrate in jammy pants, and I may have forgotten to put on a bra.
Trevor has set himself up with a living room-prep station, and is obediently snipping green beans on the couch, watching From Russia with Love. I'm taking a cocktail break from the kitchen...
oh yeah, and were both being thankful.
One thing we never really go wild about on this holiday, is dessert. Usually an assortment of shortbread cookies, depending on what dough I have in the freezer, and a glass of prosecco is all the dessert necessary after the Turkey Feed.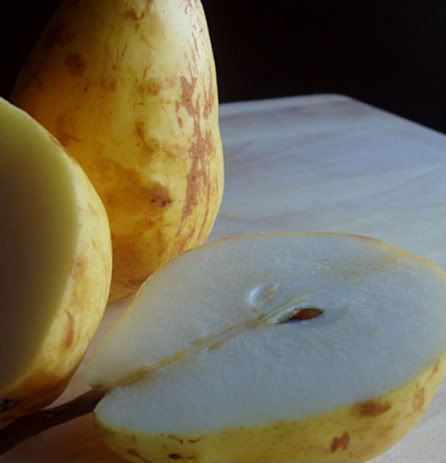 This year, however, I did have my fanciest of pants on. I had some yellowy golden pears, splotchy with little brown spots on the counter. They were primed and ready to be cooked down a wee bit, and pureed to become pear sorbet. A healthy amount of Riesling plays nicely with the pear, and a shot of cointreau adds a cozy, orangey warmth. Totally refreshing after a big meal. Rather than the tradish prosecco, I found a sexy pink cremant. She truly is a dirty girl, and will be glorious with the sorbet.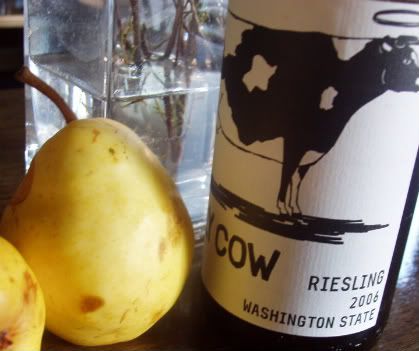 Pear Riesling Sorbet
simple syrup
(refrigerate the leftovers for cocktails)
2 cups water
2 cups sugar
combine, bring to a boil. set aside to cool.
Pear puree
(adjust sorbet recipe to how many cups your puree yields)
very ripe pears
lemon juice
water
peel and core pears. cut into chunks and place in a sauce pan. Add a few tablespoons of water and a squeeze of lemon juice. Cook, covered, over medium low heat, stirring occasionally. Once pears are beginning to liquefy, remove from heat and let cool to room temperature. Puree in a blender (in batches if needed), Strain through a sieve into a large measuring pitcher
Sorbet base:
2 cups pear puree
1 cup simple syrup
3 or 4 oz. of decent quality Riesling (add more or less to your taste)
2 T fresh lemon juice
2 T cointreau
Stir together, then refrigerate until completely cold. Churn in an ice cream maker.