OK, yes I know it's August. Rhubarb is not an August fruit here in the Northwest. Why might one post about rhubarb pie in August? Because I am evil and I like to make people crave food that won't be in season for another nine months.
Actually, the real purpose of this poorly timed post is that I began photographing my rhubarb pie in June for this blog I had intended to start that month. Well, I've finally got my arse in gear and I didn't want to wait until next spring to put it up!
I make a pie each day at the restaurant. People skim past the dark chocolate-cherry gateau and thistle honey semifreddo with roasted figs. Snub the apricot custard tart and tuscan melon sorbet, seeing only the last item on my menu. Seasonal fruit pie with housemade ice cream. It sells out every single night. What IS it about pie?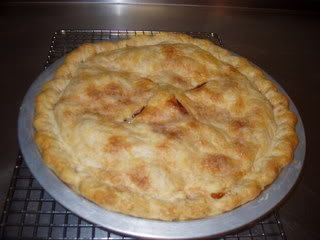 Unadulterated Rhubarb Pie
1 recipe of your favorite pie dough (my recipe, soon to come...It's a whole 'nuther post!)
(enough for a 10'' double crust pie)
2# 4 oz. rhubarb, sliced (about 8 cups)
2 T lemon juice
1 1/3 cups sugar
4 T cornstarch
4 tsp flour
pinch sea salt
2 T unsalted butter, cut into cubes
Roll out half of the pie dough and gently press it into a 10" pie plate (I like the aluminum ones...thats also a whole 'nuther post)Keep the other half of the dough chilled. Refrigerate the dough lined pie plate while you prepare the fruit.
Prepare the fruit: mix the dry ingredients in a small bowl and set aside. Toss the sliced rhubarb with the lemon juice. Next, mix in the dry ingedients. The mixture will seem pretty gloppy, but while you're rolling out the top crust, the rhubarb will release a bit of juice, creating a "saucier" filling.
Roll out the top crust...if you have room in your refrigerator or freezer, place the dough (on the back of a large cutting board or sheet pan) in there. If not, quickly mound the filling into the bottom crust and dot with the butter. Brush the over hanging dough with ice water and adhere the top crust. Trim off the edge, so you have about 1" of over hanging dough. Tuck the over hanging dough behind the pie and crimp the edge. Slice a few steam vents on top and sprinkle with granulated sugar.
Bake at 425 degrees for 35 minutes. Turn heat down to 325, and continue baking for 1 hour, or until the crust is evenly browned and steam is coming from the vents.