with glazed pecans, maple cream, and sage-caramel
Oh my god, I'm foodie jousting! I know, I can't believe it either. Seems like it's been ages since I joined in on the monthly battle brought to you by
Jenn
at the
Leftover Queen Forum
. Last month
Susan
won with her
creamy gorgonzola, fennel, and pear tart.
She probably deserves a separate award for both her blog and post titles. They sound like they should be spoken in a titillated breathy moan. I think it comes down the the use of the word "creamy"...
I thought I'd keep it tart-ie with Susan's chosen ingredients of acorn squash, sage. and orange.
Which are awesome ingredients.
I made an orange scented-pecan crust, a sweet filling of pureed acorn and delicato squash, spices, brown sugar, and a little egg- Your standard issue pumpkin pie filling but with different squash.
The sage was infused into cream for the star of this dessert: sage-caramel. I gotta say, this one really tickled my g-spot. The earthiness of the sage cuts right through the sweet caramel. A little sea salt is stirred in as well to balance everything out. It was absolutely perfect when paired with the spicy, yet not overly sweet tart.
I finished the dessert with pecans that have been glazed with brown sugar, butter, and a little salt, and a chantilly of maple syrup, whipping cream, and sour cream. Oh yeah- and a spot of bourbon.....never forget the Bourbon.....
I brought the whole shebang to work so my colleagues can get fat too.
I've witnessed enough eye fluttering after watching them devour these to decide that it should probably be put on my menu. It's the super amazing funky phresh sage-caramel that makes it. I think I might take a bath in it.
...maybe make out with it a little?.....
Sage Caramel: pretty much the best thing ever.
You know what I just realized? The next time I post a blog, we will have elected a new president. Fucking better be Obama or I'm going cry for a very long time.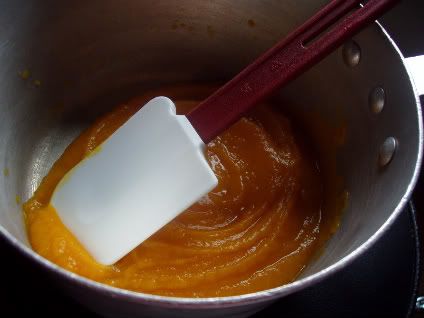 Winter squash tart with glazed pecans, maple cream, and sage-caramelorange-pecan crust:
1 1/4 cup pastry flour
4 oz cold butter, cut into cubes
pinch sea salt
1/3 cup toasted pecans
1 tsp orange zest
1 T + 1 tsp brown sugar
1 tsp flour
1 small egg
1 T cold cream
1/8 tsp vanilla extract
whisk the egg, vanilla and cream together in a small measuring pitcher and set aside. In the food processor, pulse up the nuts, zest, 1 tsp flour, and brown sugar until nuts are finely ground. Add the flour and salt. Process until nut mixture is evenly combined with flour. Add the butter and pulse until butter is the size of small peas. Transfer mixture to the bowl of a standing mixer. Add the egg mixture and mix on low with the paddle attachment until dough just forms. Dump out onto the counter and gently work dough into a disk. Wrap in plastic and chill for at least 3 hours. Roll out onto a lightly dusted surface. Makes either 6- 4" tarts or 1- 9" tart.
Freeze tart shell until baking time.
Sage-Caramel:
4 sage leaves, torn slightly
1 cup whipping cream
1 cup sugar
1/2 cup water
1 tsp lemon juice
1 T butter
pinch of sea salt
combine the sage and cream in a small pot. Bring to a boil, remove from heat, cover, and let steep for 30 minutes.
After 30 minutes, bring to a boil again, then strain into a measuring pitcher. Cover to keep hot. In a separate, larger pot, combine the lemon juice, water and sugar. Cook, brushing down the sides with a brush that has been dipped in water until copper colored. Remove from heat. Slowly and carefully whisk in the hot sage scented cream. Whisk until smooth, then stir in the butter and salt.
Winter Squash Puree: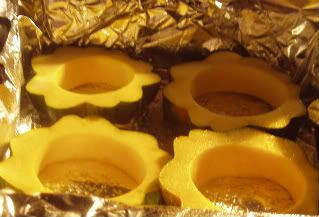 oven cam!
1 acorn squash
2 delicato squash, peeled, de-seeded, and cut into cubes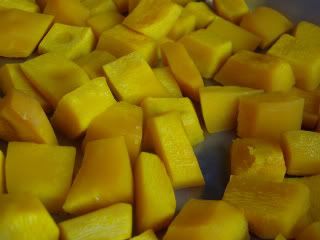 Slice acorn squash into rings, removing the seedy center and place on a foil lined pan. Prep the delicato squash and place in a hotel pan. Cover with foil. Place both pans in a 400 degree oven. Acorn squash will be done after about 30 minutes. Delicato will take up to 2 hours. Spoon out the center of the acorn squash into the food processor. add the cooked pumpkin and puree until completely smooth. Let cool. There are plenty of leftovers for soup after making this tart.
Tarts: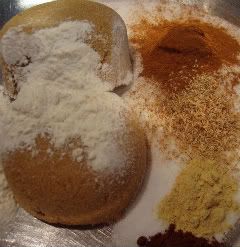 6 pecan tart shells
1 cup winter squash puree
1/3 cup brown sugar
3 T granulated sugar
1 1/2 tsp flour
1/4 tsp salt
3/4 tsp cinnamon
1/4 tsp ginger
1/4 tsp nutmeg
1/8 tsp clove
3 T whole milk
1/2 cup cream
1 1/2 Tb maple syrup
1 tsp bourbon (optional)
1/2 tsp vanilla extract
1 egg, lightly beaten
Blind bake the tart shells for 25 minutes at 350. Remove pie weights and continue baking until pale golden (shells should be almost fully baked). Lower oven temp to 325.
Whisk together everything but the squash and eggs.
Place the squash puree in a small pot and bring to a boil. Cook, stirring constantly for 1 minute. Add the the spice mixture and whisk to combine. Whisk in the eggs. Transfer mixture to a pitcher, then carefully pour into tart shells. bake for about 20minutes, or until set, but wobbly in the centers and slightly puffy on the edges.
Cool. Garnish with the sage caramel and a dollop of whipped cream (I flavored mine with maple syrup and bourbon), and glazed pecans.