Yeah. Sorry about that. A two week lull after what was a phoned in post to begin with is kind of a harsh toke. A brief early spring funk set in, leaving me with the overwhelming urge to do nothing but go through the motions.
And watch a lot of bad movies. Like, Bruce Campbell bad.
I did manage too eek out something interesting a few weeks ago- A semolina pudding. This was inspired by Heather of
Gild the (voodoo)lily
. Last February, she was in Seattle and met my sister and I for drinks. Over wine and blog gossip, she told me about her upcoming Foodbuzz 24, 24, 24 feast that focused on African cuisine (Heather's
24's
are always insane. She has another one up featuring nettles. It's so springy and delightful I could just wet myself). Anyway, she mentioned the hominy grits pudding she was planning to end the meal with. Which is where I realized that in nearly ten years of baking for a living, I had never once made a cooked cereal like that for dessert.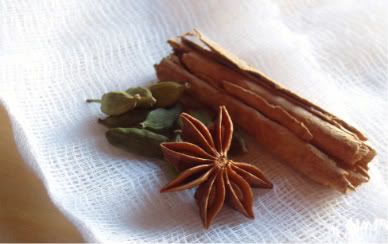 After Heather's post, I began tinkering. So as to not completely rip her off, I explored the flavors of Spain and Morocco. Sweet spices like cardamom, star anise, and cinnamon; the pulp of a vanilla bean, orange zest, and saffron. I opted for semolina over hominy, as it is what I had on hand and seemed to snuggle up with the flavors I was working with.
The warmly scented semolina is cooked, egg is added. Then it's baked in a water bath until it's just set. I baked mine in individual ramekins, because thats usually how I roll- but you could make a big one. You'll have to adjust the baking time.
To garnish, I gave it a drizzle of the clear seville orange caramel I had in the fridge, fresh blood oranges (because they're pretty), fresh mint, crushed salty marcona almonds, and a naughty little dollop of rose scented whipped cream. It made for a lovely weekend dessert special.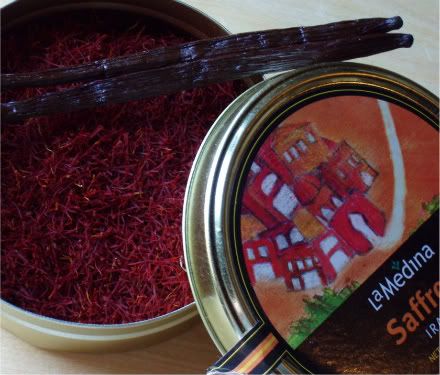 I will leave you with the recipe for my version, but the method is a canvas.
I encourage you to play.
Semolina Pudding
serves 7

2 cups whole milk
1/2 cup sugar
2 cardamom pods, crushed
1/2 of a cinnamon stick
1/4 of a vanilla bean, split open
1 star anise
pinch saffron
1/4 cup + 2 Tb semolina
2 oz. butter
1/2 tsp grated orange zest
pinch sea salt
3 eggs
1 egg yolk

Bring the milk, sugar, spices, vanilla bean, and saffron to a boil. Cover, remove from heat, and let steep for one hour.

Cut parchment paper into circles the same size as your ramekins.
spray 7 3" ramekins with pan spray. Line the bottoms with parchment paper circles and spray again. Place ramekins in a roasting pan that has been lined with a tea towel (prevents sliding).

Whisk eggs, yolk, and salt together in a bowl
Return the infused milk to a boil. Strain into a clean pot and bring back to a boil. Slowly whisk in the semolina. Continue whisking over medium heat until mixture has thickened- about 4 or 5 minutes.

Pour a small amount of cooked pudding into the eggs and whisk well. Then, whisk the tempered eggs into the pot. Add the butter and orange zest, then spoon pudding into prepared ramekins. Pour very hot water into the roasting pan until the ramekins are at least 3/4 of the way submerged. Cover pan with foil.

Poke holes in the foil and bake at 325 degrees for 20 minutes. Lift the corner of the foil to release steam (Be Careful!!), then recover and bake about 20-30 minutes longer, or until puddings are set. Cool to room temperature- at least an hour, then invert onto plates. Don't forget to peel off the parchment paper!
Serve with your preferred accompaniments