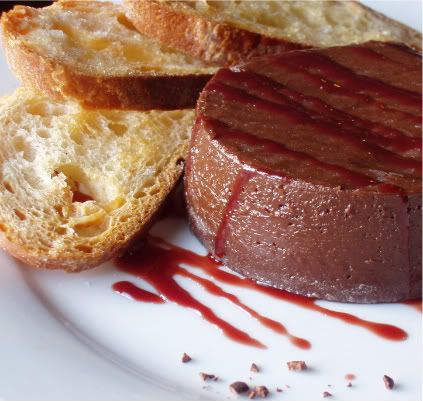 baked chocolate truffle, blood orange-port reduction, toasted cocoa nibs, sweet crostini
This is one of those dishes that just evolved into itself, completely by accident. It was inspired by the random grazing of a line cook, and the chocolate bar made by local company,
Theo
(and only organic, fair trade chocolate company in the country. Seriously. Click that link and buy some chocolate. I highly recommend the coconut curry).
The original idea was for just the baked truffle, the blood orange-port reduction, and perhaps an olive oil gelato- and I still mean to try that one day. But while I was working it out in my head, a question of texture kept popping up. I wanted something crunchy. But something other than the cocoa nibs or standard issue praline/brittle-type situation.
I was fiddling with the truffle recipe- which has the exact same texture as softened butter, when I put out a sample batch for the cooks to nosh on. We were standing around bullshitting and having coffee when one of them tore off a piece of fresh baguette, ripped it open, and smeared the truffle down the middle. Without a word, the rest of us followed suit. It was as delicious as it sounds, and I was mentally bitch slapping myself for not putting a spin on bread and chocolate on the menu until now.
I knew I couldn't serve it the way we had it, which to honest, might be how I like it best. This is where the Theo 'bread and chocolate' candy bar enters in. It's dark chocolate with baguette crumbs mixed it. It's crispy and salty-sweet and if I am ever in a munchy, it's a good place to turn. I sliced up a fresh baguette, moments after it's delivery, brushed it with melted butter, sprinkled it with raw sugar (I'm now using crystal sugar because it's prettier), and baked at 400 for about 8 minutes. Then I smeared one with a thick layer of the truffle and didn't look back.
see instructions for sweet crostini in post. Blood orange-port reduction is equal parts tawny port and blood orange juice, a small handful of sugar, and a piece of star anise. Simmer until reduced and syrupy.
Baked Chocolate Truffle
slightly tinkered with version of the recipe from
Susan G. Purdy's
Pie in the Sky
serves four
4 oz 70% good quality dark chocolate, chopped
1/4 cup water
1/2 cup sugar
1 tsp espresso powder
4 oz very soft butter (like, the texture of mayonnaise)
2 room temperature eggs
1/4 tsp sea salt
Pre heat oven to 300 degrees. In a food processor, gind up chocolate until you have fine crumbs. Brush 4 small ramekins with melted butter. Line the bottoms with small circles of parchment paper and brush with more butter. Place ramekins in a tea towel lined roasting pan.
Bring the sugar, espresso powder and water just to a simmer, do not boil. Add to chocolate in a slow steady stream through the feeding tube with the machine running. Once all the syrup has been added, continue to process for about 10 seconds. Scrape the bowl down, then turn machine back on. Add the butter, a few tablespoons at a time, through the feeding tube with the machine running. Continue to process for about 30 seconds. Scrape the bowl and process a few seconds more.
Whisk the eggs and salt together. Slowly add to the chocolate mixture, pulsing every few seconds just to combine. You do not want to add much air at this point.
Divide the mixture between the ramekins and fill roasting pan with enough hot water to submerge them halfway. Cover pan with foil and bake for about 25 minutes. Remove foil and bake 5-7 more minutes. Truffles will be set, but still look moist.
Always serve at room temperature.