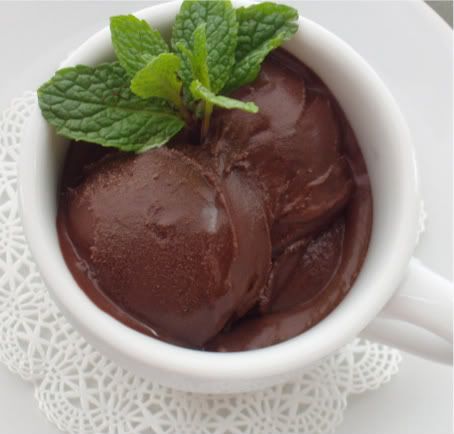 In January, I came to the realization that somehow, this blog had not featured chocolate in over nine months. Admittedly, I am more of a fruit person, but I love good chocolate and did not intentionally give it the silent treatment. My bad.
I've been sitting on this post for a while, for reasons of sheer vanity. I couldn't get a decent shot of the sorbet before it started to melt on me. I meant to re-shoot it, but it disappeared before I had the chance- as is standard practice around here when it comes to things that taste good.
But, I'm also trying to turn over a new leaf with The Pie Lady. Some of the goals I've set include using the term 'fuck' less frequently, post weekly, and to stop ignoring chocolate. So I will bravely set my ego aside and assure you that while it looks a little melty, this sorbet is fucking amazing (I've already said it once. fuck it.)
I have met my monthly chocolate quota.
PS to those interested- this stuff is rich and indulgent, but not
that
bad for you.
And trust me on this one- You will think you are eating chocolate ice cream.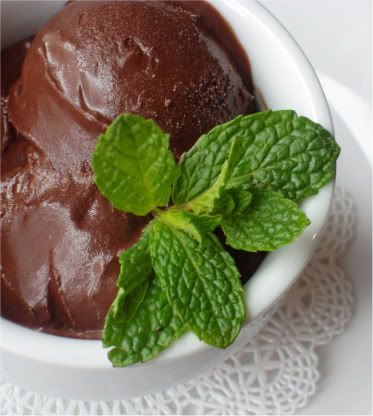 Dark Chocolate Sorbet
I like to serve mine with big sprigs of mint, because chocolate-mint is one of those flavor combos that makes my toes curl.
3 T corn syrup
2 1/4 cup water
3/4 cup sugar
7 oz bittersweet chocolate (good quality), finely chopped
2 1/2 oz coco powder (dutch process)
1/2 tsp salt
1 tsp vanilla
2 T brandy
Combine the chopped chocolate, salt, and coco in a large bowl.
Combine the sugar, corn syrup, and water in a pot and bring to a full boil.
Slowly pour 1/3 of the hot sugar syrup into the bowl of chocolate and whisk thoroughly. Continue adding the syrup and whisking in 2 more additions. The mixture may seize up when you first add the syrup, but it will come together.
Stir in the vanilla and brandy. Strain the base through a fine sieve and chill until completely cold. The base will thicken slightly.
Once base is completely cold, churn in an ice cream machine according to manufacturer's instructions.