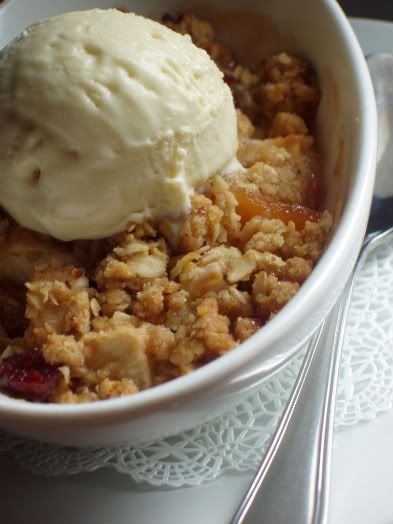 Before I even start this post, I need to publicly thank Matt (of the blog
Wrightfood
, and whose praises have been sung here in the
past
) and his beautiful wife Danika for the amazing meat party they threw for Seattle area bloggers two weeks ago. It was really cool to finally meet Matt in person, as we've been blog buddies for the last year or so. Those of you who are familiar with his blog know his photos totally smoke most cookbooks. I am pleased to announce that the food tastes even better than it looks. Matt, who is primarily a seafood guy- but I think he prefers the term "bloke", went all out with rillettes, game pate, and slow roasted pork shoulder- just to mention a few of the goodies. Each course was pared with wines lovingly selected by Catherine Reynolds of
Queso y Vino
. And I was humbled beyond words when Matt asked me to prepare the dessert (which was
NOT
the crisp you see above. With course after course of homemade charcuterie, fruit crisp just wouldn't cut the mustard). We left the party giddy from wine and with happy tummies. To read more about this meaty soiree (or to get really jealous) check out
Matt's post
.
Now, about this crisp...
While it may not be quite elegant enough to follow a 4 course carnivorous orgasm, it certainly stood up to the hoppin' john we had post superbowl yesterday. Nothing soothes the sting of watching the cardinals lose like a plate of beans, greens, and piggy.
It's all about the topping with this one. The fruit and ice cream is irrelevant to me. The key is the temperature of your butter when mixing the strudel. You want it to be
cool
, set at room temperature for just long enough to take off the chill. Of course, it all depends on the environment you are working in- but I usually take the butter out of the fridge, cut it into cubes, and let it hang out on the counter while I gather the remaining ingredients. By the time I'm ready to mix, the butter is right where I want it.
You can use this topping for any fruit and it will be delicious. I had some poached quince, granny smith apples, and dried cranberries (plumped up by a soak in scalding hot water). I make this at work with a combination of pears and sour cherries, which will soon change to rhubarb, as I just heard it's now available from our produce vendor (!!!!!!!)
So use what you've got. Toss in a little sugar, spices if you want em (I usually don't), and a splash of melted butter. You're good to go. You can make make a big batch of the topping and freeze it for when you need to pull a dessert out of your ass.
The ice cream was a no brainer, as a healthy glug of V.S.O.P makes any fruity dessert happy. The excess amount of booze in the ice cream gives it a soft, velvety texture right out of the freezer. This ice cream is also really good with warm chocolate cake- the fuggy flourless kind. Though, I am sure I have failed to surprise anyone with that little nugget.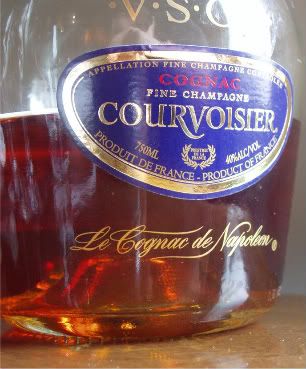 Next post, I promise to refrain from using my little oval bowls and doilies. I am also realizing that I cannot remember the last time we saw chocolate here....
hmmm
.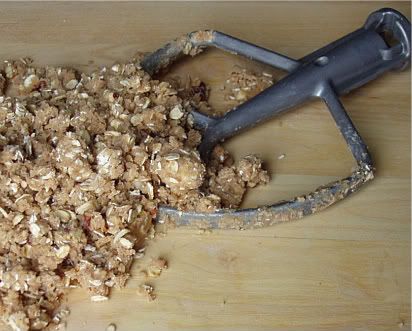 Crisp Topping
Yield....lots. I usually just scatter a few handfuls over my crips and freeze the remainder
1/2 # butter, cut into cubes and slightly softened*
3 oz. chopped pecans (just shy of 1 cup)
5 1/2 oz. rolled oats (about 1 1/2 cup)
8 oz. flour
5 oz. brown sugar
1 1/2 tsp cinnamon
1/2 tsp fine sea salt

Combine everything except the butter in the bowl of a standing mixer. Mix on low speed, using the paddle, until well combined. Add the butter and mix on low until all the dry ingredients have been moistened by the butter and the mixture is clumpy. Do not let the mixture turn into dough.
*see instructions in post
Winter Fruit Crisp
Yield- 4 individual crisps
3 granny smith apples, peeled, cored, and cut into 1 1/2 " chunks
4 oz. poached quince, strained
1/4 cup re hydrated cranberries**, strained
1 tsp lemon juice
3 T sugar
2 T melted butter
1 cup crisp topping

**Cover dried cranberries with boiling water and let sit for at least 45 minutes.

Toss together and divide amongst 4 ramekins or small bowls. Top each bowl with 1/4 cup crisp topping.
Bake at 350 degrees for about 30 minutes- until topping is brown and fruit is bubbly.