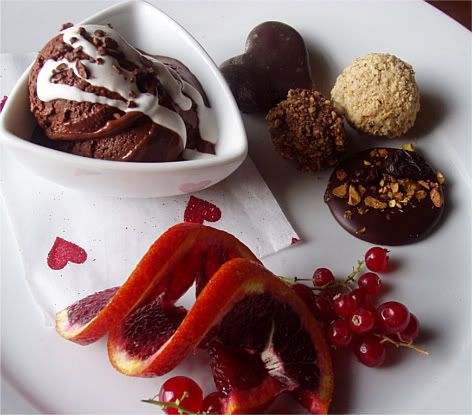 Valentine's Day Dessert Plate For Two
Pardon my not visiting your blogs lately. Cupid has had me by the short and curlies.
Valentine's Day is not something I've ever given two shits about as a wife. But as a pastry chef, it's a different story. I am usually buried in my regular prep to prepare for the incursion of two-tops we'll be hit with that night, as well as the dessert special- usually chocolate, that is expected. Then, that evening, I come back to the restaurant to plate desserts.
I know I am making it sound pretty miserable, but it's actually a really fun, high energy event. I work my ass off in the kitchen, then change into my chef whites and plate- which is something I relish doing, but rarely have the chance.
Later, I have a shot or two with the cooks, and go home to eat pizza with Trevor (our Valentine's day late night pizza delivery/bottle of wine/movie rental is a much beloved tradition).
There were a few added kinks this year, mostly self-inflicted.
One is the fact that now I have two restaurants to worry about instead of one. Two dessert specials, and going back and forth between two restaurants to plate desserts.
Another hindrance- I decided to change the entire menu a few days before Valentine's day. This means that rather than spend the weeks leading up to the big day perfecting a kickass dessert special, I was working out recipes for the new menu.
Then, I convinced myself that I wanted to make truffles for the special.
Truffles.
??????
Yeah, I decided to mix tempering chocolate, with pms and a time crunch.
I don't recommend it.
But, I have said this before and I'll say it again. For some reason, I work best under pressure. Thanks to two awesome assistant bakers who rocked the shit out of the regular prep load, a nice 70 degree kitchen, and the energy giving powers of vitamin B 12 injected smoothies from the joint next door, all went off with out a hitch.
The final plate ended up being a chocolate sampler for two. Dark chocolate sorbet with vanilla bean crema and roasted coco nibs, fresh fruit (blood oranges, red currants), and assorted truffles and confections:
white chocolate-grapefruit truffle with hazelnuts, milk chocolate-Bailey's truffle with pecans, dark chocolate-single malt scotch truffle (which was heart shaped), dark chocolate-pistachio-sour cherry mendiants, and not pictured because it was still cooling at the time: marcona almond brittle
I did the same special at both restaurants to ease the feeling of panic- the dining public will never know.
The big star of the plate was the sorbet, which I promise to blog ASAP, as it's too easy and too delish not to share. The single malt scotch and dark chocolate truffle was my personal fave. But I wont blog it as I ripped it off from the Scharffenberger book, and grabbing the camera to snap a few shots while dipping truffles was completely out of the question.
I slept for 16 hours yesterday and I'm fully recovered. I'll be back to lurk on your blogs now.
Oh yeah- tomorrow is my 5 year wedding anniversary, so there is a possibility of a first ever restaurant review to come....
if I can remember the camera. And it probably wont be a
review
per se, as that is not my style (I never burn bridges)- but more of a "look at the pictures of this food I ate, it was yummy" type posting.