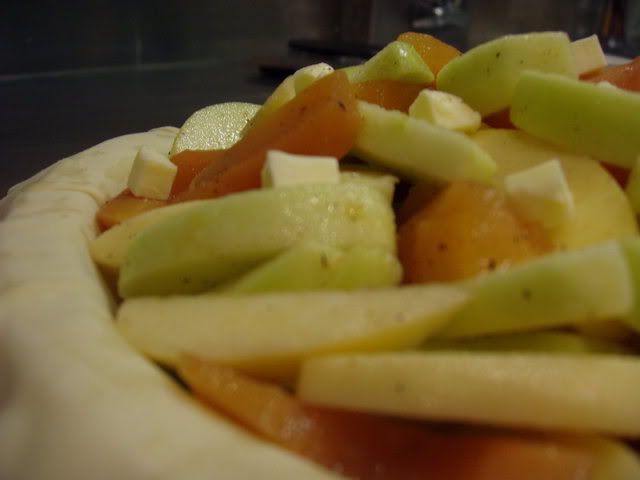 Asian Pacific quinces team up with Pacific Northwest Apples
You guys didn't think I would hold out on you just before the peak of pie season, did you? You did, didn't you. Oh, ye of little faith, I know it's been a
while
since The Pie Lady has defended her title, but I would never abandon my readership before the holidays without at least a couple of pies for inspiration.
So, I am presenting you with my all time favorite. This is a bold statement. Choosing my favorite fruit pie is like choosing a favorite pet I've had over my lifespan. They are my babies and all of them are dear to me. You know when I crown a pie "favorite", that something about it is special.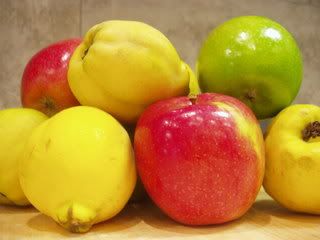 Quinces can be spotted on many food blogs these days, and this is likely not to be the only apple quince pie you've seen. I can tell you that this one has been tested time and time again, and has a surprising taste. The
quince
is native to Asia and is related to both apples and pears. It's really fragrant and if uncooked, horribly bitter. After about 30 minutes cooking time, the bitterness dissipates and the floral and honey notes that are in the fragrance of the fruit come out it it's flavor as well. As a lucky bonus, the fruit also turns a gorgeous pink color and leaves behind a rosy, full flavored syrup....cocktails anyone?
The Asian quince will be crossing the pond...or Pacific Ocean, to the Pacific Northwest to snuggle up with some Washington apples. They packed a little treat in their carry on. Chinese 5 spice (which is a blend of cinnamon, anise seed, cloves, ginger, and fennel seed)-a staple in Asian cooking, separates this pie from all of the others in my arsenal. It wakes up the apples and fits right in with the quince, joining both fruits together in holy pie matrimony. Never, has a spice, so
made
a pie.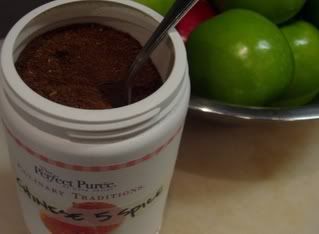 The choice of which apples to use in a pie is a controversial one, so I'll leave that up to you. It should, however be a blend of 2 apples. One should be tart and firm- I use granny smiths, and the other should be sweet and tend to soften more when cooked-I like Braeburns. They don't turn to complete mush and have a full, sweet flavor. The quinces must be poached ahead of time. They are a much firmer fruit than apples so by the time they are cooked, the apples have turned to sauce. Blegh. The good thing about poaching the quince first, is that once they are done cooking in the syrup, they will not continue to cook in the oven. I love the control that gives me. It makes me drunk with power...or maybe thats my quincemopolitan (see below). Another reason pre poaching is the bees knees: sadly, when quince is baked raw under dough, the don't turn that beautiful blush color. They just kind of look like apples. Pre poaching pumps up the color.
Raw Quince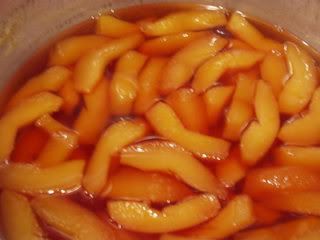 Poached Quince
Apple Quince Pie
1# sweet apples (such as braeburn, jonagolds, or Macintosh)
2# tart apples (such as granny smith or newton pippen)
poached quince* drained (save the syrup!)
2 T quince poaching liquid*
2 T fresh lemon juice
1/3 cup sugar
pinch sea salt
3/4 tsp good quality Chinese 5 spice
2 T cold unsalted butter
enough of your favorite pie dough for a double crust 10" pie
(Follow this link for my all butter pie dough)


Peel, core, and slice the apples. Toss with the lemon juice and the poaching liquid. Add poached quince and stir gently to combine. In a separate bowl, whisk together the sugar, salt, and 5 spice. Add to fruit and toss to combine. Mound fruit into a dough lined pie plate and dot with butter. Moisten the overhang with water and apply the top crust. Seal the edges, trim excess overhang, and form into a crimped pattern. Slice a few steam vents in the top and sprinkle with granulated sugar. Bake at 375 for 45 minutes. Rotate, lower heat to 325, and continue baking for 30 minutes.


Poached quince

5 quinces
3 cups water
2 cups sugar
1/2 vanilla bean, split and scraped

Peel, core, and slice the quince. Dissolve the sugar into the water in a pot. Add the vanilla bean and bring to a simmer. Drop in the fruit and let cook on low heat for about 30 minutes. The liquid should be at a constant simmer, and use a plate to keep the fruit submerged. Let cool in the syrup. Drain and reserve the syrup for flavoring the pie and for the cocktail I will show you!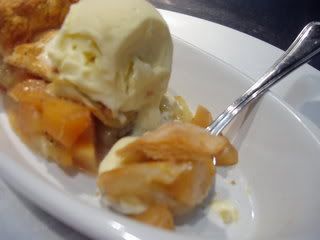 BUT WAIT!! Don't go anywhere!! Why not wash down that tasty pie with a "Quincemopolitan"? Two posts in one my friends, for it is
Blog Party
time, which is hosted every month by Stephanie of
Dispensing Happiness
and she has picked Fusion as our theme for November. For this virtual cocktail party, I am taking that pink nectar from the poached Asian quince, and fusing it with a New York cocktail made famous by that one show that I've never seen and don't think I'd like. But, I do like the drink. The bartenders serving them at my sister's wedding party can attest to that...Wow. I drank
a lot
that night.....they just go down so smooth!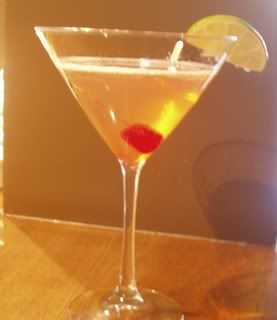 Anyhoo, here ya go. Take this recipe and have a jolly old time. I'll be taking it to the blog party were we will be chasing fusion inspired bite sized appetizers with zany cocktails like this one. Check out the round up on Stephanie's blog on November 17th.
2 1/2 measures good quality vodka
1 measure cointreau
1 measure fresh lime juice
2 measures quince poaching liquid *see above
shake with ice and pour into a chilled martini glass. Garnish with a cherry and a slice of lime.