As you can probably tell my the blinding girlishness of my blog, I unapologetically love pink.
The thing is, I in no way fit the personality profile of a stereotypical pink-lover.
My ipod and cellphone are not bedazzled with swarovski crystals.
I stopped wearing tiaras after grammar school.
If for some reason I am wearing a skirt, I can assure you that I will provide no opportunity for accidental peeping at my lady parts.
See? I'm totally 'one of the guys'.
But yeah. I admit that pink sort of puts me in my happy place. As does this pink grapefruit sorbet. I look forward to making it all year. Right about now, when the gargantuan Florida grapefruit are available is the best time to make it, but the Texas rio stars are also quite good. The Campari is key. While it may taste as bitter and evil as Slayer lyrics by itself- the oompf a little splash of it in citrus cocktails will deliver makes it a worthy investment. Plus you'll look totally suave with it sitting on your bar.
Do yourself a favor and candy the zest of the grapefruit before juicing them. Not only is it less wasteful in trying economic times like these, but it makes a tasty garnish as well.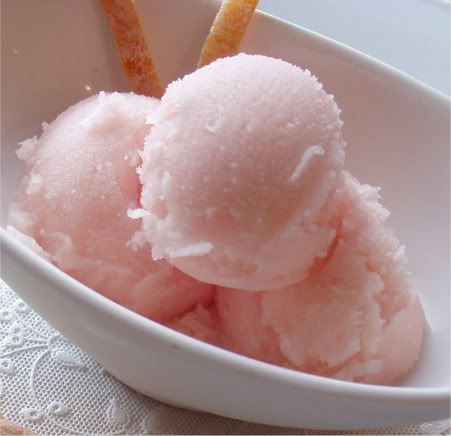 This sorbet always does well at the restaurant. It's rare when a sorbet will outsell anything with chocolate in it, but this one will.
I love to imagine some alpha male on a first date accidentally ordering it.
While he is desperately hoping to appear manly- thus increasing the odds of mating, this pretty pink dessert on a doily sits before him.
It probably never happens, but I can always fantasize.
Grapefruit Campari Sorbet

5 1/2 cups freshly squeezed ruby red grapefruit juice (usually takes about 8 medium grapefruit)
1 quart grapefruit simple syrup*
6 oz. champagne, prosecco, or cremant (anything bubbly)
1 oz campari

Combine and churn in an ice cream maker according to manufacturer's instructions

*Grapefruit simple syrup:
1 quart water
4 cups sugar
grated zest of 2 ruby red grapefruit

Rub the zest into the sugar with your hands until the mixture resembles wet sand. Combine with the water and bring to a full boil. Remove from heat and strain. Chill overnight or in an ice bath.