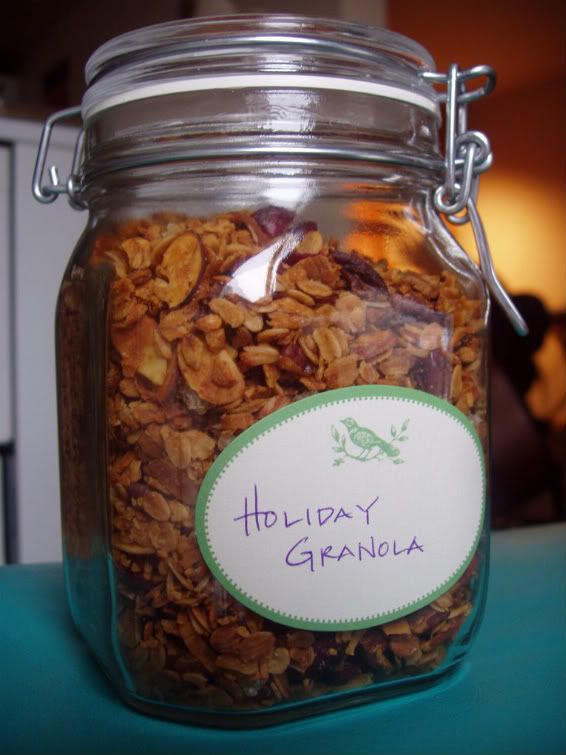 As granolas go, this one is pretty damn festive.
I call this "holiday" granola because it contains dried cranberries, minced candied ginger, and is infused with the zest from satsuma oranges- which were always in my stocking as a kid.
Also, because I can only assume that people get sick of receiving cookies and shitty fudge (as I do)- I made a huge batch, jarred it up, and gave it away during the holidays. I love homemade gifts (really!), and I especially love it when they wont lead to adult onset diabetes and a fat ass.
While I would never call this granola healthy (ya know- the butter.), it is certainly more beneficial than the giant tub of flavored popcorn my sister-in-law sent us (half candy corn, half cheddar corn. All stale, smelly, vile, and eerily addicting).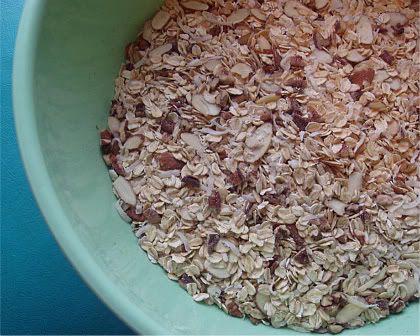 This recipe is totally laid back. It turns out perfect and evenly golden every time. It comes from my old buddy Kurt, former owner of
Cafe Septieme
in Seattle, and now full time farmer. I usually don't add dried fruit to it- as it is delicious alone, but dried bing cherries, blueberries, or apricots are also nice compliments to it.
Next time you're fixing drop 6 or 7 bucks on a box of granola, why not just check out your pantry? You undoubtedly have all you need to make it yourself.
You'll thank yourself while it's baking and the aroma of honey and orange fills your kitchen.
You'll thank me once you've tried it sprinkled on vanilla ice cream.
Holiday Granola5 cups rolled oats
1 cup pecan pieces
1 1/2 cups sliced almonds
3/4 cup shredded coconut (I prefer unsweetened- but use what you like)
1 1/2 tsp freshly grated nutmeg
9 oz unsalted butter
3/4 cup honey
zest of 1 orange (or 2 small satsumas)
1 cup dried cranberries
1/2 cup minced candied ginger




Pre heat the oven to 325
Toss the oats, nuts, and coconut together in a large bowl. In a saucepan, bring the butter, honey, zest, and nutmeg to a boil. Pour over oats and stir thoroughly, until mixture is evenly coated with the honey butter. Pour out onto 2 sheet pans.
Bake for approximately 30 minutes, stirring every 10 minutes.
Cool, then stir in dried fruit.