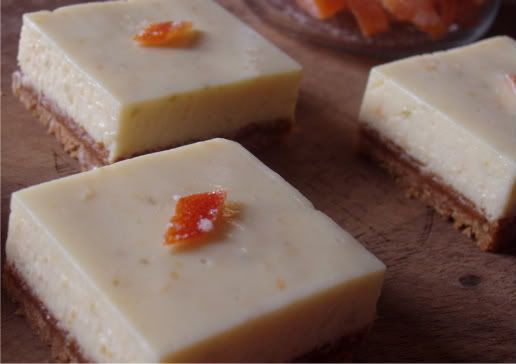 There is nothing fancy about these bars. I am completely aware of the fact that none of my readers will be wowed or have their hair blown back.
But they are so,
SO
good.
I made these for the first time last summer to bring to a BBQ, using just the zest and juice of key limes and garnishing with toasted coconut.
I had also brought strawberry shortcake- made in the height of local strawberry season, with a mascarpone whipped filling. I was expecting that to be the crowd pleaser, but everyone kept going back for the lime bars.
I knew I would need to revisit the recipe when citrus season rolled around.
Here we are, six months later with an abundance of cool citrus fruits to play with. This particular batch was made with the zest and juice of limes, meyer lemons, and cara cara oranges- garnished with a piece of candied grapefruit zest (leftover from my Grapefruit Campari Sorbet. Stay tuned).
I will be making these again in a few weeks using all seville oranges (my fave) for a super tart party in my mouth.
It's hard to say exactly what makes these simple little bars so addicting. I really love the animal cracker crust as a stand in for the everyday graham crackers. And the texture of the filling is nothing short of dreamy- having just enough cream cheese in them for a slight tang, but not so much that they are cheesecakey (nothing against you, cheesecake- but there is a time and a place.)
This recipe comes from a well known cooking periodical. I will not tell you which one, because the word on the street is that they are total nazis about food bloggers reprinting their recipes.
I'm going to break all kinds of laws here, and supply you with the recipe- without citing the source. Lets see if thugs wearing little red bow ties come after me brandishing rapier swords and chucking ninja stars.
Mystery Citrus Bars (as I made them)

crust:
5 oz animal crackers
3 T packed brown sugar
2 T melted butter
1/8 tsp fine sea salt

Pre heat oven to 325 degrees. Line an 8 inch square baking pan with aluminum foil, leaving excess to overhang pan sides. Spray with non-stick cooking spray.
Pulse animal crackers in a food processor until broken down. Add brown sugar and salt. Pulse until you have evenly fine crumbs. Add butter and pulse until crumbs are moistened.
Press evenly into the bottom of prepared pan (use the bottom of a drinking glass or measuring cup). Bake until golden brown. About 18-20 minutes. Cool while you make the filling.filling:
2 ounces cream cheese, softened
1 1/2 tsp each of grated lime, meyer lemon, and orange zest (mince zest with a sharp knife after zesting)
1/8 tsp fine sea salt
14 oz can sweetened condensed milk
1 egg yolk
4 T lime juice, 2 T meyer lemon juice, and 2 T cara cara* orange juice
*cara cara oranges are slightly less sweet than regular oranges. If using regular oranges, decrease juice to 1 T and increase either meyer lemon or lime juice by 1 T.
Go Oregon Ducks
Stir the cream cheese, zest, and salt with a rubber spatula until softened and creamy. Add sweetened condensed milk and whisk thoroughly until no lumps remain. Whisk in egg yolk. Add juices and whisk until incorporated.
Pour filling into crust, spread to corners, and smooth surface with a spatula. Bake until set and edges begin to pull away slightly from the sides of the pan. 15-20 minutes.
Cool to room temp, then cover with foil and refrigerate until completely chilled- at least 2 hours.
Loosen edges with a paring knife and lift bars from baking pan using foil extensions. Cut bars into 16 squares.