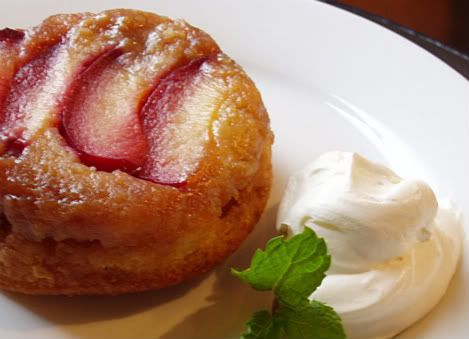 Make upside-down plum cake
So, yeah- I bought a case of black plums. A CASE. I'm beginning to wonder if I may have been high at the time, as I am feeling totally overwhelmed by them. I ordered a case for the
plum pie
I am making at work right now, and was surprised by how especially delicious they are this year. So why not order a WHOLE CASE for myself? Forget the fact that Trevor doesn't even like plums and will therefore be no help whatsoever in consuming them.
High I tell you. Tripping Balls.
In the past week I have made plum sorbet, plum scones, the upside-down cake you see, and will hopefully will be tackling the bulk of them today by making plum jelly.
I'm drowning
Thats okay, when fall rolls around I get a major home-baking bug up my ass. On top of all of the plum desserts being pumped out of my kitchen, I've been on a cookie frenzy as well. Trevor and I made Halloween cat shaped chocolate butter cookies on Sunday. The recipe came from Cooks Illustrated and they SUCKED ASS (they were, however
adorable
). It's one of the few times I've been let down by C.I., but not even the ganache glaze could save them. I ended up dumping them on my co-workers who, not unlike meth addicts, will eat anything containing sugar.
Anything.
Future blog posts will most likely include pumpkin-shaped sugar cookies (which were both cute and had the good manners to be delicious), poppy seed shortbread (my all time favorite cookie), and chocolate sandwiches (read: oreos).
These little plum cakes are my favorite incarnation of the upside-down genre, and it usually makes an appearance on my dessert menu in the late summer. The cake is not overly sweet and has the texture of a cross between a muffin and a cake donut. The Armagnac scented caramel provides most of the sweetness and acts as a gooey counterpart to the tart plums and muffiny cake. They don't need much dressing up. Ice cream is a little too rich. I usually go for a dollop of creme fraiche. On my menu, I will add a plum caramel to accent the flavors of the cake.
The modest, unassuming dollop.
I'm going to send this dessert over to my girl Ley, of
Cilantro and Lime.
She's hosting her first blog event
Baking for breast cancer awareness
. I participated in the boobie bake off last year with my
boob-shaped cupcakes
. I had considered revisiting these, but opted not to be quite so 7th grade this time around. These plum cakes are pink(ish), which for some reason is the chosen color to represent breast cancer. While that is not a requirement for this particular event, I found them to be somewhat fitting. Ley also asked that we share how breast cancer has affected our lives personally....
Somehow, this form of cancer has not really affected me. I consider myself to be very lucky for this. Cancer in general has affected me greatly. My mother-in-law lost her battle with a rare form of lung cancer. My Grandfather (the coolest Grandfather EVER)is currently battling prostate cancer, and knock on wood, appears to be beating it. I could keep going, but as far as the boobies are concerned, those close to me have been fortunate. So I will keep participating in events like these, keep taking care of myself, and keep hoping the women I care about remain healthy.
Upside-down plum cake
Makes 7 4" individual cakes
Caramel:
4 oz. butter
6 oz. brown sugar
2 T Armagnac or brandy of your choice
sliced plums
Spray ramekins with pan spray. Line the bottoms with little circles of parchment paper and spray again. In a saucepan, melt the butter over medium heat. Add the brown sugar and whisk until it melts. Remove from heat and whisk in brandy.
Ladle about 1 oz of caramel into the bottom of each ramekin.
Fan 4 slices of plums over the caramel (usually takes about 3 plums). Chill until caramel is firm- at least an hour.
Cake batter:
3 oz. butter, softened
1 cup sugar (I always use my vanilla sugar. If you have any on hand, it really makes a difference. If you don't- make some!)
2 eggs
1 1/2 cup + 3 Tb all purpose flour
2 tsp baking powder
1/2 tsp sea salt
1 cup sour cream
In the bowl of a standing mixer, whip the butter with the sugar using the paddle attachment until fluffy. Add eggs, one at a time, scraping the bowl as needed. Alternate adding the sour cream and sifted dry ingredients in 3 additions. Scoop the batter into the ramekins and spread with a small offset spatula (batter is quite thick). Bake at 350 degrees for approximately 30 minutes- until a cake tester comes out with a few moist (but not raw) crumbs clinging to it and the surface of the cake springs back when gently pressed. Let cool about 10 minutes (until just cool enough to handle). Flip cakes out onto a cake rack. Serve warm.