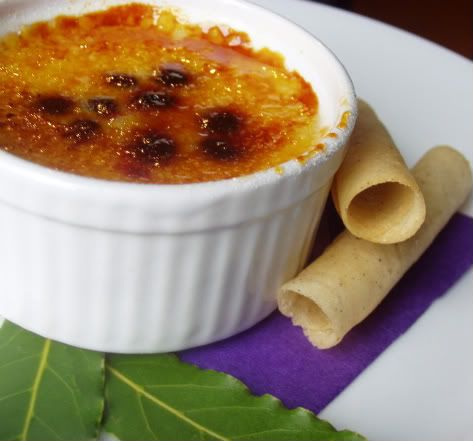 Huckleberry Creme Brulee: scented with fresh bay leaf and served with brown butter tuiles
You know what hurts, like
really
bad?
A fractured rib.
Those of you who follow my twitter updates already know, I was in a car accident on Monday evening. Yes, folks- it's one woe-is-me post after another here. And by the way, thank you for all of your kind words about my kitty. Percy is doing much better-he's just as sprightly and obnoxious as ever, just the way we love him. He has, however passed his cold on to his sister- but she's always been a rockstar and seems to be kicking it's ass.
So, back to my whining: I was hit on the drivers side in the middle of an intersection. My car is kind of totaled (I can't close the driver's side door). The guy was in his mid 50's, driving a Lexus. Needless to say- he's got tons of insurance- so ya know, there's that.
Luckily, he was only going about 35 miles an hour. But that was enough to give me a nasty bruise on the side of my head, a healthy case of whip lash, and a fractured rib. Which hurts like a bitch. The other driver is totally fine, and I could be in much worse shape. For the most part, I am thankful that we are both okay.
But this rib....good god. Please don't make me laugh, cough, or sneeze. For that matter, I'd prefer not to breathe if thats possible. Anyone who has ever had one of these knows that there is nothing the doctors can do. I was given a weeks worth of codeine and told to "take it easy".
The last couple of nights, as I've been nursing my aches and pains- I've been craving comfort food (wine and the doting husband can only do so much). The combination of hurting, the cold weather, and
this
post, which I read just hours after the accident, brought it all on.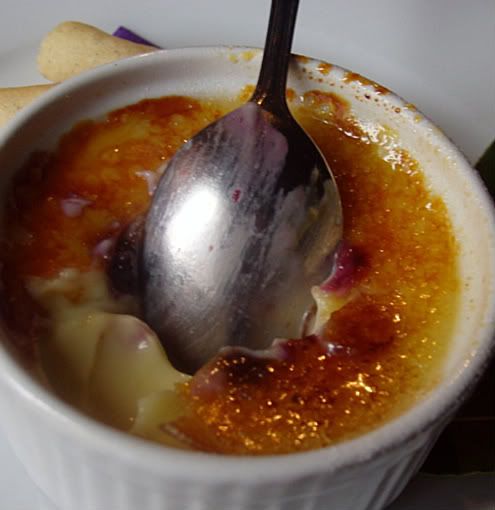 I need a hug
It seems like the general dining public is craving it as well. Some of my fancy pants desserts at the restaurant are being snubbed for the simple, snuggly ones. Huckleberry creme brulee in particular seems to be all the rage right now. Which is fine by me- as it couldn't be easier to make.
I use frozen huckleberries procured by the very same hippies that forage the wild mushrooms for the restaurant. They come all cleaned and ready to go (huckleberries are a fucking
nightmare
to clean). Those of you not living in the pacific northwest might be shit-out-of-luck. There is no commercial licence for huckleberries (which are native to the mountainous regions of Northwest forests), so they can be hard to find if you live in Skokie, Illinois. Blueberries would work (but they're nowhere near as good. sorry).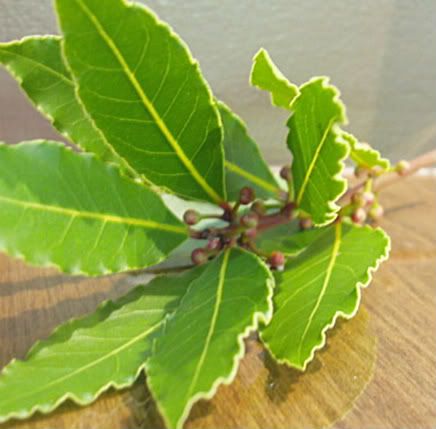 I infuse my brulee base with a vanilla bean and some fresh bay leaves. If you've never tried a dessert made with fresh bay leaves, for the love of god try it. It's really good infused into creamy substances such as flans, ice creams, and of course brulees. If you live in an area where huckleberries are nigh impossible to get your hands on, I highly recommend you just try the bay-scented brulee. Trust me on this. Have I ever let you down?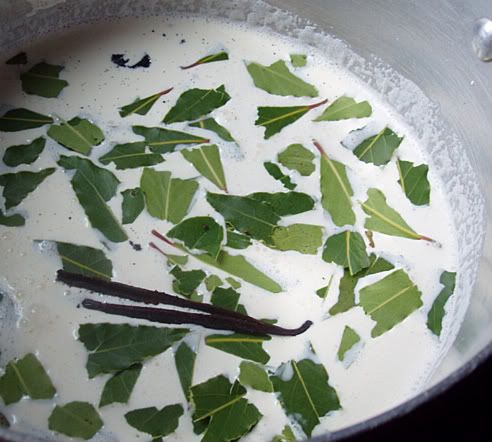 Huckleberry-Bay Creme Brulee
makes 4-6 individual servings, depending on the size of your ramekins
9 fresh bay leaves
1/2 of a vanilla bean, split and scraped
3 cups whipping cream
6 egg yolks
1/4 tsp salt
4 oz. granulated sugar
1/3 cup huckleberries, fresh or frozen
Tear the bay leaves and combine them with the cream and vanilla bean. Bring to a boil. Remove from heat, cover, and let steep for 2 hours.
Whisk the eggs, salt, and sugar together in a large bowl. Bring the infused cream back to a boil and temper it into the eggs. Strain through a fine sieve.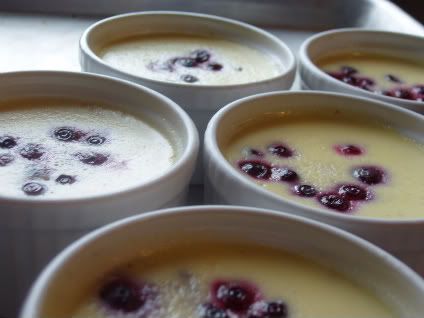 Line a roasting pan with a tea towel to keep the ramekins from sliding around. Pour hot tap water into the pan until the cups are halfway submerged. Divide the huckleberries amongst the ramekins. Pour the brulee base into each cup. Cover pan with foil and bake at 350 for 45 minutes to 1 1/2 hour (start checking after 45 minutes). Brulee is done when custard is set, but slightly wobbly. Remove cups from water and chill for at least 4 hours, overnight if possible. Just before serving, sprinkle with granulated sugar and (if you have a propane turbo torch) torch until the sugar melts. Otherwise, place under the broiler until the top is golden brown. Don't walk away, this happens fast!
Serve with cookies.