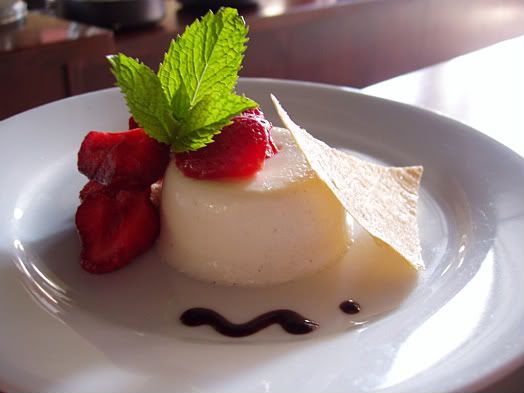 Three weeks in heaven- buttermilk panna cotta, local berries, crispy phyllo, strawberry-balsamic reduction
First of all, thanks to all of you for your get better comments and for bearing with me during my silent period. I am starting to feel better, though I still seem to be drowning in phlegm (yeah, sorry thats disgusting. But sometimes you just gotta share).
If I haven't completely grossed you out, shall we talk about this month's
Sugar High Friday
? Susan at
Food Blogga
is hosting with the seasonally apt theme of berries.
I beam with pride when we get our first flat of local strawberries. As I have previously boasted, the Pacific Northwest is berry country. My neighbor to the south (Portland, to be exact- which is probably the coolest city on this planet)
Heather
pointed out that it's the volcanic soil. All I know is that with my first taste of the season, I renew my pact I have made with myself to never move from this glorious land.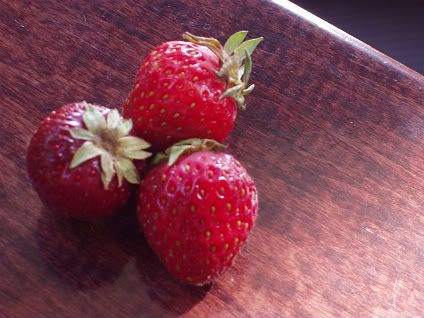 My berry can kick your berrie's ass
This year, nature has been cruel to us. Our already short local strawberry season was almost a month late. Strawberries like a nice cozy 70-75 degree climate, which is why June and July here is perfect for them. But this year's weather has been all fucked up, resulting in a three week long season for our beloved strawberries. It ended on Saturday. I am still grieving.
I had a delightful dessert on the menu to showcase the lovelies this year. I am boycotting
strawberry shortcake
, due to the fact that I just need a break from it- and it's a somewhat tired (delicious, but tired) dessert. Instead, I turned to Claudia Fleming's buttermilk panna cotta. I have found many of Fleming's recipes to be hit or miss. Many of them are excellent ideas, but need some tweaking. Her buttermilk panna cotta, however, is stellar as is. All I did was replace the plain sugar with vanilla bean sugar. I firmly believe that the sight of vanilla beans makes people happy. And I am in the business of making people happy.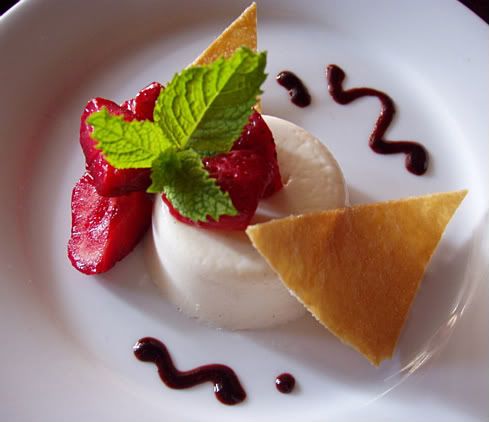 Next to the panna cotta and sliced, sugared berries are a a couple of triangles of crispy phyllo and a squiggle of strawberry balsamic reduction- which is equal parts strawberry puree, balsamic vinegar, and a little sugar reduced until it gets kind of jammy. This concoction is also amazing when brushed onto a roasted pork tenderloin. I would eat this dessert over shortcake (which I still love) any day. It almost feels..oh god.. "light" ..eek!
Buttermilk panna cotta
adapted from Claudia Fleming
1 1/4 cup heavy cream
4 oz sugar
1 1/2 tsp gelatin
1 3/4 cup buttermilk
Place the gelatin in a small bowl and sprinkle with 1 T cold water. Let soften for 5 minutes. Spray 6 large (or 10 very small- thats what I do) ramekins with pan release. Combine the sugar and cream in a saucepan over medium heat, stirring until sugar is dissolved and cream is hot. Add the softened gelatin and continue stirring until gelatin is completely dissolved- do not let mixture boil. Remove from heat and stir in buttermilk. Strain into a measuring pitcher and pour into prepared ramekins. Let chill until set- at least 3 hours. Invert onto a serving plate and top with sliced, sugared berries.