I stumbled upon a recipe for honey semifreddo a year or two ago while flipping through Nigella Lawson's "Forvever Summer." At that time, I was running the wholesale bakery. Scones, pies (of course), cinnamon rolls, scones, some layer cakes, and more scones were all I was ever making at work. As one might guess, I was going out of my mind with boredom. Thankfully, in March of this year, I shifted gears and am now making dessert for a local urban bistro. The job is perfect for both my tastes and attitude toward food. When planning out my dessert menu, I knew I would have to start playing with that semifreddo of Nigella's.
The first place I would have to start would be finding a great, full bodied honey. I wanted something dark with an intense, yet not too smokey honey flavor. At the same time, it needed to be a honey that wouldn't break the bank and was easy to get my hands on. Tahuya River Honey is my favorite honey in this area, but I've only ever seen it at farmer's markets and the price is just a little high. Each loaf pan of the semifreddo calls for almost 8 oz. of honey- practically a whole jar.
I happened to be having lunch near Pike Place Market with my mom one day, when she mentioned that she needed some dried chukar cherries for her manhattans. I tagged along and stopped by the Snoqualmie Valley honey stand.
http://www.honeyexpress.com/
Somehow, I had forgotten about these guys. They hold a regular stand at Pike Place, so it's easy to get. (They will also ship!) Requirement #1 met. Three pound jars of all varieties of their honey is only $15.00. Requirement #2 met. So I started tasting some of them. Firweed was delicious as it always is, but I was looking for something slightly less smokey. Buckwheat honey was also great, but a little too sharp. Thistle honey was exactly what I was looking for. Dark, intense, and complex. We have found a winner!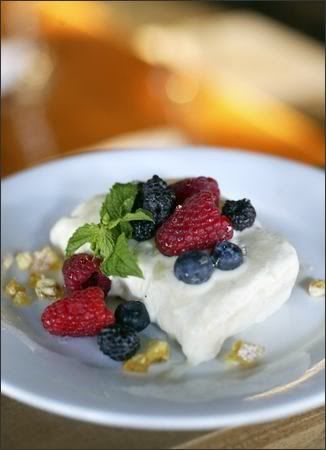 Ready for it's close up...topped with black raspberries, tayberries, blueberries, and pine nut praline.
Photo courtesy of the Seattle P-I
Next, it was time to start adjusting Nigella's recipe to suit the vision in my head. Her's is a little eggier than what I had wanted and the final product is coated with a thick layer of more honey and toasted pine nuts. My version is slightly creamier, and is served with crunchy pine nut praline. Local berries and a tiny drizzle of honey (thinned out with a little Moscato d'asti) is all this dessert needed for it's finishing touches. Most important: It's totally delicious. I will go back to this dessert annually. It was a hit both with customers and reviewers, and it was easy to keep up on it's prep. Above all, just 4 ingredients is all you need to create this luscious, creamy, and cooling summer dessert.
Thistle honey semifreddo (serves about 12)7 1/2 oz. thistle honey (or your favorite full-flavored honey)4 egg yolks1/2 of a vanilla bean (seeds only)3 cups heavy creamline a loaf pan with plastic wrap and set aside. Prepare a double boiler: Fill a sauce pot with about 1" of water and bring to a low simmer. Have ready a bowl that will fit over the pot. The bowl should not be too deep, nor the water level too high.In the bowl you have ready, combine the honey, vanilla seeds, and egg yolks. Place the bowl over the simmering water and whisk constantly for about five minutes. The mixture will have thickened quite a bit, and will have become pale in color. Remove bowl from bouble boiler and set on the counter to cool to room temperature.Once the honey mixture has cooled, whip the heavy cream to soft peak. Gently fold the whipped cream into the honey in three additions. Pour the mousse into the prepared loafpan and freeze overnight.To serve: put a sheet pan in the freezer for a few mintues.
When the pan is good and cold, remove it and flip it upside down on your counter. Now you have a nice cold surface in which to slice the semifreddo. Invert the loafpan onto the cold sheet and gently seperate the plastic wrap from the loaf. Slice into 1 " slices and serve immediatley on chilled plates. OR- Place each slice onto a chilled sheetpan, wrap in plastic, and freeze until ready to serve.