One of my sister's oldest friends, Jon (aka- Jonny Loser) works in the realistate biz, but the guy should be a chef. He's got the crass sense of humor that is encouraged in kitchens and he's a natural with food.
A few weekends ago, My sister Brooke and Jon threw themselves a double birthday party/BBQ with the two of them cooking. Brooke made a bright corn and tomato salad and baked beans (probably something else too, but I have forgotten what...sorry B). Jon did all the grilling...burgers and ribs so succulent that they didn't even need his BBQ sauce....but the sauce was incredible, so I dowsed them in it. We were all nibbling and chatting outside, when Jon brought out an unexpected surprise from the kitchen. His homemade macaroni and cheese. When I saw the bubbling casserole dish hit the picnic table, I immediately dumped the contents of my plate onto Trevor's so I could make room for the mac. It was probably the best homemade macaroni and cheese I have ever had. Fancy restaurants like Icon and Veil are putting mac n cheese on their Menus these days, but they are always a little too "dressed up" for me. This one was simple and perfect. That's about the best way I can describe it. Just perfect.
Trevor loved it too, so I had Jon email me the recipe. It's also the funniest recipe for anything that I have ever received. Here it is- warning: this is uncensored!
Hi Brittany,

Here is the mac & cheese recipe

Paprika
4 Tbsp butter
4 Tbsp flour
Milk
Cheese ( I like to use Tillamook sharp or extra sharp cheddar)
1/2 - 3/4 cup grated Parmesan
1 box of shell noodles (I like to use large shells, but always have to settle for medium)

Take knife and cube up 2/3 - 3/4 of the baby loaf of cheeeeese. Eat some of it cause it's good.

Boil water and put noodles in water once the water boils. Don't put your hand in the boiling water. That sucks.

Make a roux with the butter & flour.

Pour in the milk. I don't really know how much. Probably 2 or 3 cups.

Now you stir it on med-hi heat. Never stop stirring. Stir stir stir. If you stop stirring, it won't be as good. I'm not even kidding. I don't know why, but after years of research we have always found this to be the case.

Once it becomes nice and thick, start to drop in the cheese. But don't stop stirring, ok? Just keep it fucking going.

Once the cheese has all melted into the roux making it look like something you want to eat with a spoon, pour it over the boiled noodles that you managed to put into a casserole baking dish without stopping the stirring.

Then pour the Parmesan cheese into it and mix it all up and around so the shells get filled with cheesy happiness.

Then sprinkle some paprika over the top of it. Then bake it in the oven for like 30 minutes at about 400 degrees, or until you've reached your desired levels of crispiness.

Then you take it out of the oven and let it cool a little. Then you eat it with your mouth and teeth and stuff. Chomp chomp chomp.
Some of us are defiantly used to recipes that are a little more precise. But it seemed to work perfectly for me. I used Tillamook extra sharp cheddar as Jon suggests. I think I ended up using about 7 oz. Taste your sauce as you near the end of cooking it. Throw in a little more cheddar if it needs it, but don't forget that you're about to add Parmesan too. What I think is critical is finding the large shell pasta, which shouldn't be a problem at most grocery stores. With our mouths full, Trev and I agreed that if we were forced to use the medium shell pasta, it wouldn't be quite as good.
You won't see a lot of savory posts on this blog, but I'll throw one in here and there for variety. You'll never see uptight or fancy food. It's just not what I cook at home. If I want duck breast with bing cherries and chicken morel balletone. I go out. If I want macaroni and cheese made with love and elbow grease, I stay in!
All my mise-en-place, complete with a cold beer for the cook!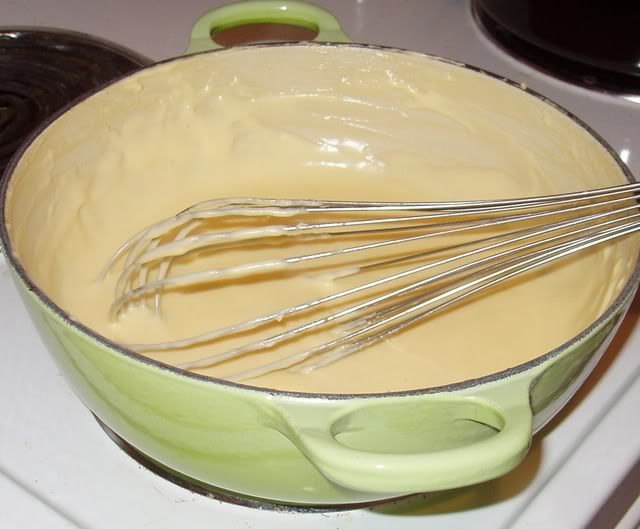 He means it. Don't even think of "giving your arm a break"- stir, wuss!
Before it's 30 minutes in a 400 degree oven
...and after.