What you see is one of the many reasons why I love my home. I was born and raised in the Seattle area and the Pacific Northwest is part of who I am. Fresh seafood, wild mushrooms, bad weather, coffee, Jimi Hendrix....I love it all and I doubt I'll ever move. Huckleberries (also known as bilberries), in particular hold a special place in my heart. These little guys are kind of hard to find. "Loved by bears and humans alike", they grow in the mountains around Idaho, Oregon, and Washington. It used to be that one could only find them in the most random places... gas stations in the middle of eastern Washington would have a man selling them from the back of his truck. Thanks to the growing popularity of neighborhood farmer's markets and local mushroom purveyors, I can get fifteen to twenty pounds of them dropped off at the restaurant per week- all cleaned and ready to go. They freeze beautifully, so if you can ever get your hands on them, buy a lot. Then, place them in a single layer on a sheet pan and put them in the freezer. When they're frozen, pack them up into heavy duty ziplock bags, and you've got huckleberries ready to go at any time of the year. They thaw in an instant and are great tossed into a coffeecake batter, baked in a bundle of puff dough, sprinkled over oatmeal, or my absolute favorite: huckleberry ice cream.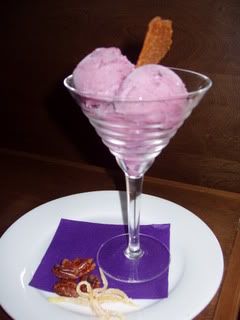 Nothing could be easier than putting this luscious treat together. If you are comfortable with making vanilla ice cream, this will be a breeze. The huckleberries are combined with just a pinch of sugar, cooked down into a chunky sauce, then cooled and combined with an ice cream custard base. The finished product is a creamy mauve colored delight. The berries look like blueberries, but really don't taste like them. They are somehow both tangier and sweeter at the same time. I like to serve this dessert as simply as possible. Just an oatmeal crisp cookie plunged into the ice cream, and a few little nibbles on the plate such as candied orange peel and glazed pecans.
Huckleberry Compote

1 1/2 cups huckleberries, fresh or frozen
3 Tbl. sugar
3 oz. water
1/2 tsp. fresh lemon juiceCombine the first three ingredients in a sauce pan and cook over medium heat for about 10 minutes. Whisk the sauce a few times during the cooking process to break up the berries slightly. Stir in the lemon juice. Cool the compote completely before combining with the ice cream custard.
Vanilla Ice Cream base

2 cups heavy cream
1 cup whole milk
6 egg yolks
pinch salt
2/3 cup sugar
1/4 of a vanilla bean or 1/2 tsp pure vanilla extract

In a large mixing bowl, whisk together the egg yolks, sugar, and salt. Set aside. Split the vanilla pod down the middle and scrape the seeds with the tip of a paring knife into a saucepan. Drop the whole pod into the pan and add the milk and cream. Bring the mixture to a full boil, then temper in about 1/3 of the hot liquid into the yolks. Whisk well, then pour the hot cream/yolk mixture back into the pan. Return to medium heat and cook, stirring constantly with a heat resistant spatula. Be sure the spatula is continuously touching the bottom of the pan, or the eggs Will scramble. The ice cream base is finished once the custard is thick enough to coat the back of a spoon or it registers at 170 degrees on a thermometer. Strain the custard through a fine mesh sieve, then allow to cool in an ice bath. It's best to refrigerate the base overnight if you can. If you're not using the vanilla bean, the extract can be stirred in at this point.

Once both your ice cream base and huckleberry compote are cold, combine them and churn in an ice cream maker following the manufacturers instructions.