Mexican Chocolate Flan with Spicy Mango and Pepita Brittle
Readers who do not live in the Seattle area will find this post to be pretty boring. Sorry. You can just look at the pictures- which, lets face it, suck. I am just never going to be one of *those blogs* where every shot looks like it came straight out of a cookbook, complete with tea towels to match the food and theme appropriate dishes.
I'm busy.
One of these days I'll get around to reading the information booklet that came with the camera. But until then, the stuck up panel of judges at tastespotting can just bite me.
Unless they take bribes(?)....
I guess that little diatribe has been building up since I started this whole blogging thing. Thanks for listening.
But I did not sign on to be bitter. I come here today to give
New Urban Eats
a shout out, or "NUE" as the cool kids call it, which I most certainly am. This is the third installment of the Seattle restaurant program, the second go 'round for
Betty
, which would explain why my back hurts, my elbows are throbbing (my future arthritic sweet spot- looking forward to those good times), and when I close my eyes, all I can see are these flans.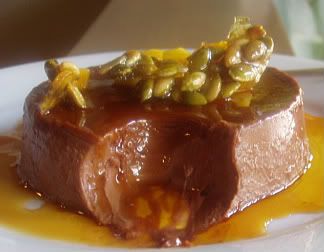 You can't afford NOT to eat this
Allow me to further explain the NUE concept. For one month, 20 Seattle restaurants participate by featuring a prix fixe menu of 3 courses for 30 dollars. It's a ridiculously good deal, and it's not just some shitty sub-par plate of gruel the chef threw together to sell at a discount. At Betty, every choice presented to you for the prix fixe dinner can be found on our regular menu- same goes for my dessert options. I guarantee you will walk out of the place uncomfortably stuffed with delicious food.
But I am not going to shove just Betty down your throats, There are other really good places playing along with NUE.
I recently ate at
Red Fin
, a sushi joint downtown also participating in the event. I had grilled crab legs to start, the chef sushi platter for an entree (fucking huge plate of sashimi and sushi), and honey cardamom creme brulee (oh yeah, a bottle or 2 of warm sake, sadly not included in the discount). It was enough food for 2 people, and a 30 dollar tab at red fin is usually unheard of.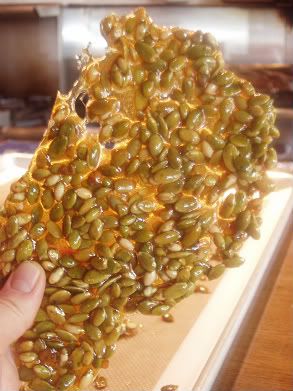 painfully addicting pepita brittle. I get my daily sugar intake 15 minutes after I get to work and start testing this stuff for "quality control"
So in short, Seattleites- get out there and eat! You have exactly 10 days left- well, 8 days- it is not offered on Fridays or Saturdays. We are already having our asses handed to us on weekends. I think we would very likely go insane if we were also offering a prix fixe.
But seriously, times are tough. We all know that. It seems like dining out is one of the first sacrifices one makes when faced with 4$/gallon gas (insert "fuck you dubya" comment here) and a housing crisis, and all the other fretful things going on in the world. But for a brief period, there is some relief from your restaurant bill, should you chose to take advantage of it.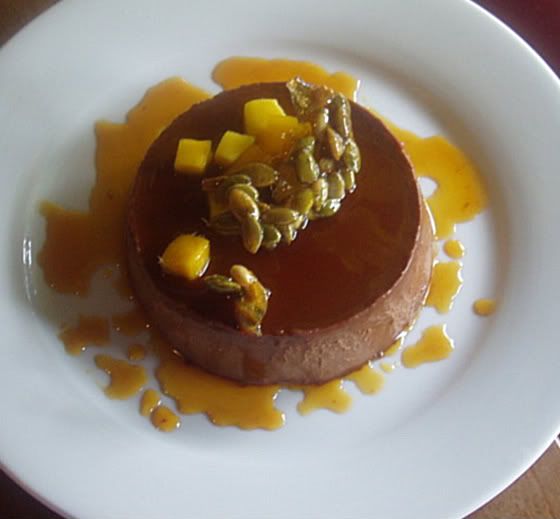 Looking for a recipe?
Sorry. I kind of have to protect myself when it comes to items on my dessert menu. Especially when it comes to this flan, which took me almost the entire month of April to perfect. I will tell you about it though. I infuse the dairy with orange zest, ancho chile, coco nibs, and cinnamon. Later I add good bittersweet chocolate and kahlua. The mango is simply dowsed in chile infused simple syrup. Pepita brittle is nothing more than cooked sugar and pumpkin seeds.
There. Feel better?