I have a refrigerator full of these things and a husband who hates cake...
Sigh
.
Jenn
, our anointed sovereign's monthly
joust
is here again. Do you guys realize that the winner now gets an apron with their blog name on it AND free Tupperware? Not to mention being able to brag to all their friends and a sweet logo for their blog.
At home in my kitchen, I wear a nappy, apron that I stole from a now defunct vegan hipster restaurant where I was once a cook. Complete with stains from curried tofu scrambles and textured vegetable protein sausage of yore.
Just sayin' is all.
Last month's winner and now proud owner of said apron and Tupperware was
Elle
who chose raspberries, lime, and almonds for our battling ingredients.
The Pacific Northwest is berry country. People in Michigan or wherever can argue this all they want (I have arguments about this all the time with our Michigan-born sous chef. Somehow when the first flat of local strawberries arrives, he sings a different tune.), but it's true. The berries up here are the shit..
....In July.
Needless to say, I was wary of planning a recipe around a sucky California berry. Luckily for me, I'm a genius. Last year, I was able to get my hands on a flat of local black raspberries. I turned them into a seedless compoty-freezer jam type concoction that I still have several jars of.
The Jousting wheels were turning.....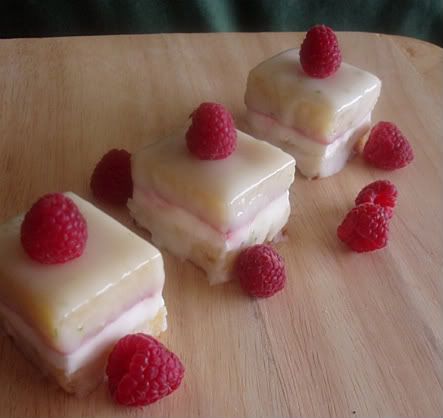 Garnished with the snubbed California raspberries that actually turned out to be really good. Not Washington good, but good.
I had announced on the forum that I would think outside the box and come up with a savory entry.
Lies.
The compote was wanting to be made into a dessert of some sort. So I entered Petis Fours country- not a zone for pastry pussies. After glazing your 112th teensy little cake, the urge to stab someone can come on pretty strong. I decided to scale down my recipe to a meager 24 petis fours. I ate one- they turned out delicious, and now I have 23 of them sitting in the fridge. Trevor wont touch them with a ten foot pole. They are a pastry- which he hates, and painfully girly. He wont admit to that being a factor in his disdain for dainty little tea cakes like this, but he's not kidding anyone but himself.
Heres how I made the little bastards:
Almond butter cake- sliced horizontally into 4 layers (makes 2 separate cakes)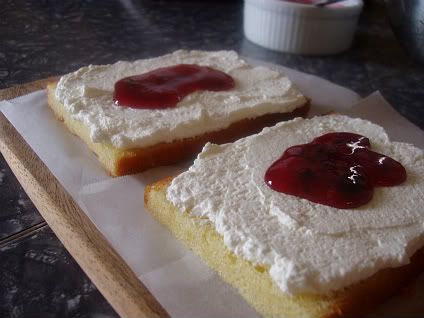 Shmear with lime swiss buttercream and black raspberry compote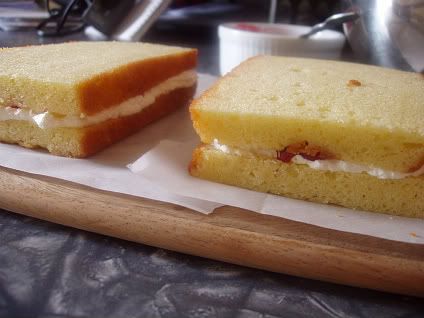 Sammich it together
Cut into quaint little squares, then glaze with lime fondant. Prepare to be doing this activity for a good hour. An episode of Deadwood makes for excellent company while performing this task. Hearing the word cocksucker coming out of my TV makes it so I don't have to shout the profanities myself
I am completely out of steam and cannot type this nonsense anymore. If you want the recipe for these ingredients, here is the link to my post on the
forum
.
I'm going to bed.