It was still delicious, but my sister is anti-nut unless it's an almond or a hazelnut. Both of which were conveniently absent from her pantry shelf. We were going to the store for buttermilk, where nuts are easily obtained. But, no. She was determined to have this rhubarb bread come out nut free. Her kitchen, her rules....fascist.
Lonely lonely rhubarb
That's okay. Lucky for her, this is the most versatile and forgiving quick bread recipe of all time. Plus, she had just given me a really cool rug and a bunch of clothes (my sister Brooke is a clothes whore. Seriously. She was trying to give me stuff that still had the tags on it. Every time I see her, she has bags full of items to unload on me so that she can clear space in her closet for more f'ing clothes. I would suggest an intervention if her illness were not so beneficial to yours truly....is that bad? But honestly- In 8 years, the only articles I've had to buy for myself are chef pants and birkenstocks. Pretty much everything else comes from her. And she has good taste to boot.) so I wasn't going to throw down over something as petty as a nut. But walnut fans will be pleased to know that I did voice my opinion...several times.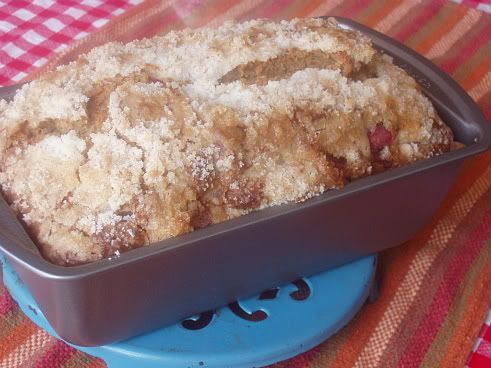 You have no idea how good this smells. See the scented steam a-wafting out the top? Oh yeah.
Despite all that, I had such a delightful day with the sibling. She and her boyfriend, CK, just bought a house in the ridiculously quaint, historic downtown area of Everett. It's about 30 miles north of the less quaint, more crowded, and much snootier queen anne neighborhood of Seattle, where I live (I still love you Sea-town, you just piss me off sometimes). Everett is the type of town where everybody knows each other. We had brunch at an adorable cafe, where the owner is Brooke's new neighbor. Later, we had pints and salads at the Irish pub where she and CK attend(and sometimes win, cuz CK be all smart and stuff) trivia night once a week. The small town vibe has become foreign to me, so it almost felt like a mini vacation. I also fell in love with Brooke's new, enormous and light-filled kitchen. Complete with a dishwasher (also foreign to me) and a breakfast nook. Like her mother before her, Brooke's whole house is beautifully decorated, one of the umpteen reasons why I refer to her as the "talented one"- but the kitchen and I hit it right off. I refused to go home with out baking something in there for her boyfriend, who would be returning from teaching rock climbing lessons (or something environmental and hippi-ish like that) that night, tired and hungry. I would have found any excuse to play in there, but CK's weary return with a rumbling tummy immediately tugged at her heartstrings.
So, we made rhubarb bread. Here is the recipe. Please note that it is better with 3/4cup of toasted, chopped walnuts. If you are smart, and are adding the nuts, reduce the flour to 2 3/4 cups.
Rhubarb Bread adapted from Kate's mom
(for inquiring minds, Kate is my old boss)
1 1/2 cups dark brown sugar (we have discovered that dark brown makes it noticeably superior. But use light if you must)
1 egg
6oz. melted butter
1 cup buttermilk
1 tsp baking soda
1 tsp salt
3 cups flour
2 cups sliced rhubarb
Topping:
2 T butter
1/2 cup granulated sugar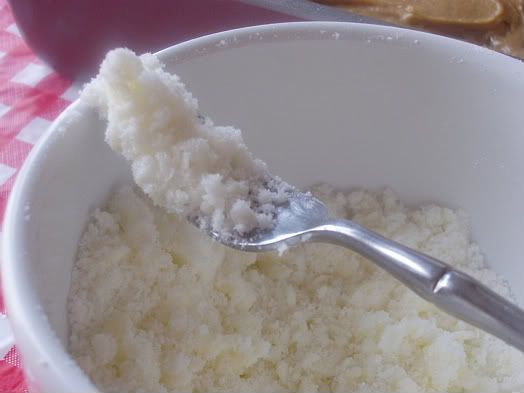 Sugary-buttery topping.This stuff is basically crack.
Pre heat oven to 350. In a large bowl, whisk together the egg, brown sugar, and butter. In a separate bowl, whisk the buttermilk salt and baking soda, then add to brown sugar mixture and whisk to combine. Add the flour and mix until just combined, then fold in the rhubarb. Pour into a greased loaf pan and set aside while you make the topping. In a small bowl, combine the granulated sugar with the 2 T butter. Mash with a fork until crumbly, then sprinkle over the batter. Bake at 350 for 40 minutes, then turn oven down to 325 and continue baking for 20-25 minutes, or until a skewer inserted into the center comes out clean. Cool completely (overnight if possible- it's never possible...) before slicing and wolfing down.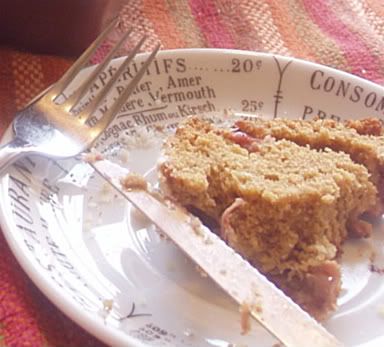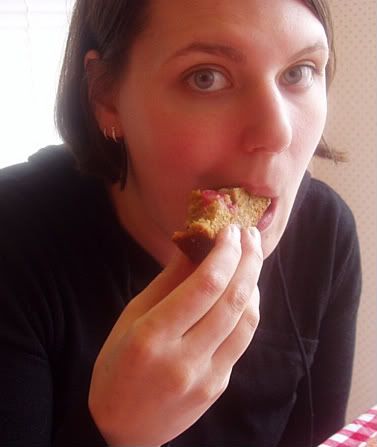 Brookey Likey.