Coconut-Jasmine Ice Cream
It's Sugar High Friday time again....yaaaaay! These days, it seems to be the only blog event I can get my shit together for. This month's host, Amrita at
La Petite Boulangette
chose the theme "Asian Invasion".
This had to be providence; just hours before I read the announcement, I happened to be at
World Spice
and picked up some pearl jasmine. It was begging to be used for this.
Pearl Jasmine, which is mostly used for tea, can also be used for infusions. Pairing it with another Thai ingredient- coconut, seemed like a damn fine idea to me.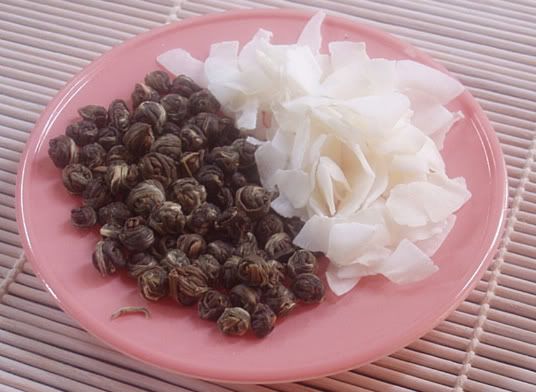 Southeast Asian persuasion: pearl jasmine and coconut
I had thought of doing a panna cotta or a creme brulee, but it the end, ice cream was what I (husband's constant bitching about how I never make him homemade ice cream anymore had nothing to do with it. I swear.) really wanted. Coconut milk served as a replacement for most of the whole milk, I also used some unsweetened flaked coconut in the infusion to help pronounce the flavor. Jasmine can be a very assertive ingredient, and I didn't want it to over power everything.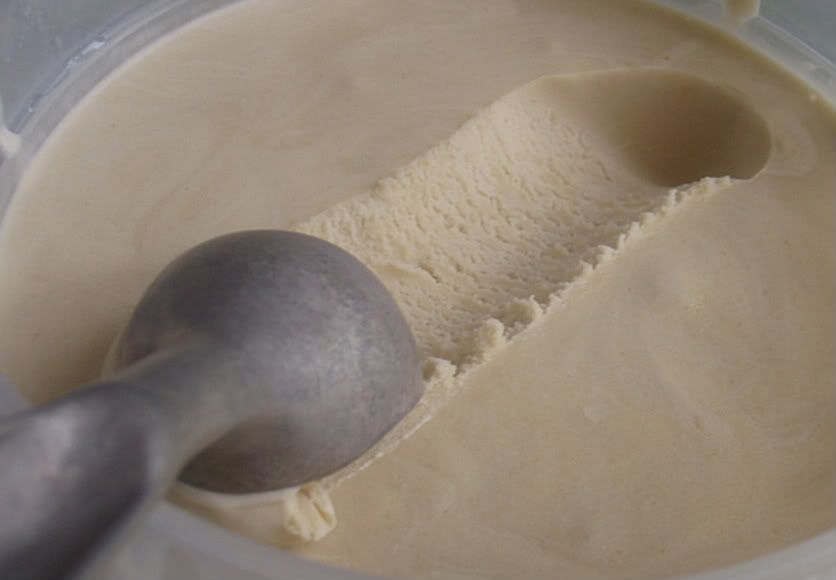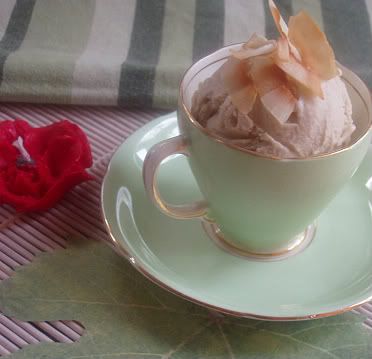 Final verdict? OH.MY.SWEET.LORD. Sooooo good. The two flavors were balanced together in perfect ying-yang harmony. Not included in this post are the lime sugar cookies I made to go with them, but they are certainly worth mentioning.
You want to know what else is worth mentioning? The Dali Lama is in town! This very day, he is literally blocks from my home at the Key Arena. He's been here all weekend- how kick ass is that?
Coconut-Jasmine Ice Cream1 can coconut milk
1/4 cup whole milk
4 cups heavy cream
3 T pearl jasmine
1/2 cup unsweetened coconut flakes
12 egg yolks
1 1/2 cup sugar
1/2 tsp salt

Combine both milks, cream, sugar, and coconut flakes in a pot. Bring to a boil, then add the jasmine. Remove pot from heat, cover, and let steep for 1 hour. Whisk together the eggs and salt in a large bowl. Return the infused dairy to a boil, then slowly temper it into the eggs, about 1 cup at a time. Return mixture to low heat and stir constantly with a heatproof spatula until it thickens (make sure you are scraping the bottom of the pot with the spatula). Immediately remove from heat and pour through a fine mesh strainer. Place custard over an ice water bath. Once custard is very cold, churn in an ice cream maker following manufacturer's instructions.