For your inner "skinned knee"
Who likes chocolate?
My hand is raised too. I'm not like, weird about it though. I have known some people who shall remain nameless who have a freakish addiction to it. If I had to desert-island it, I'd go for some sort of pie over chocolate. But I have nothing but love in my heart for the balls-out chocoholics. They make my job so easy. Molding good quality chocolate into an exquisite dessert is a breeze. Flavor-wise, most of the work has already been done.
For the last year or so, Scharffen Berger has been my chocolate of choice. It has a brightness to it that seems to make it stand out from others I have tried. I'm sure there are many pastry chefs out there that would both agree and disagree with that. I really think that amongst the top few contenders of really good stuff out there, it becomes a personal matter of taste. Really they're all pretty damn tasty. But I stand by my choice.
Last year, I picked up John Scharffen Berger and Robert Steinberg's
The Essence of chocolate
. I love it when I drop 40 bucks on a cook book and it turns out to be worth EVERY G.D. PENNY. Every recipe I've tried out of here has turned out to be a winner. Plus there is added information about the origins of chocolate. It's also beautiful. Pretty cookbooks are like my dollies.
Worth it's weight in delicious chocolaty goodness
Here is a recipe from the book that I find myself making all the time- Chocolate shortbread with cacao nibs and salt. They are perfect for grown-up milk and cookies. I keep a log in the freezer for when one of us has had a no good, rotten old day. The salty-sweet factor is kind of like crack for me, and it's well represented in these cookies. This is a great one to try if you have one of those 50 dollar jars of fancy pants salt that you're scared to even open sitting in your cupboard. It will shine like Elvis in these.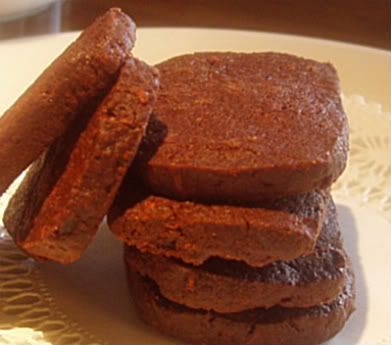 Chocolate Shortbread with Cacao Nibs
adapted from
The Essence of Chocolate
6 oz unsalted butter, at room temperature
1/2 cup sugar
1 tsp vanilla
1 cup flour
3/4 cup Scharffen Berger natural cocoa powder
3/4 tsp good quality salt (or 1/2 tsp kosher salt)
3/4 cup cacao nibs
Crush the nibs using a rolling pin, or bottom of an iron skillet. Set aside. Sift together the flour and cocoa powder.
In the bowl of a standing mixer, cream the butter and sugar with the paddle attachment until fluffy and smooth (scrape bowl as needed).
Add the vanilla and salt and mix until combined.
add half of the sifted dry ingredients and mix until barely absorbed. Add remaining dry ingredients and mix until combined. Add nibs and mix just until they are evenly dispersed through out the dough.
Either roll the dough out and cut out shapes, or form it into a log and slice off cookies (about 1/4 ").
Bake at 300 degrees for 20 minutes. Rotate halfway through baking time.