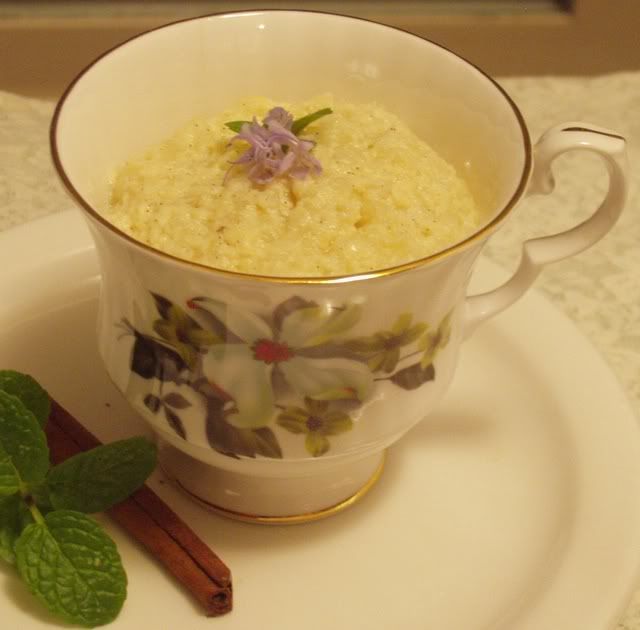 What is the matter with Mary Jane?
She's perfectly well and she hasn't a pain,
And it's lovely rice pudding for dinner again!-
What is the matter with Mary Jane?
A.A Milne
"Rice Pudding"
When We Were Very Young
1924
It's
retro recipe
time again. This month's host is Naomi from
Straight into bed, cakefree and dried
and she has chosen a really unique theme- story book food. I love, love, LOVE this theme. Retro food is extremely comforting to me. This is most likely because of the work I do at the restaurant. I'm always trying to think outside the box and come up with really cutting edge desserts (I know, pie is not exactly cutting edge- it's the one "comfort" item on my menu, and it is special it it's own way. Very few "urban bistro" dessert menus in Seattle have the balls to feature a granny's kitchen-style fruit pie.), at home, I like to get down to my roots in the kitchen. After a long day of making gateaus, salt caramel tarts, sweet potato creme caramel, and anise hyssop sorbet- it's nice to come home and soothe my tired self with simple desserts from my childhood.
With Naomi's theme this month, the retro cooking in my kitchen is extra comforting. Not only do I have an excuse to cook something childlike and cozy, but I get to dig through old children's books to find my idea.
On a blustery day, I went to a used book store and found a book of poems called "When We Were Very Young" by A.A. Milne. This was published in 1924- I'd say thats retro enough- and featured a poem about a teddy bear who "however hard he tries, grows tubby without exercise". This would be a little character known as Winnie-the-Poo's first appearance in Milne's writing. Another poem, entitled "rice pudding", jumped out at me as a perfect candidate for this month's RRC. I absolutely adore rice pudding and I have not made it in at least 5 or 6 years. Not to mention, there was a good chance that the hubby might even like it. He loves rice in just about anything, and despite his lack of a sweet tooth, custard and vanilla are two things he will happily devour. So, the opportunity to introduce him to something new was an added bonus to this event.
I wish I could tell you all where I got the recipe for this rice pudding. I have a big binder in my kitchen cupboard with the words "CHEF BRITT" written down the binding in sharpee. The contents of this book are hand-written (sometimes on the back of unopened phone bills dated 2001) recipes in no particular order. This thing is an ungodly mess, but for many years, it has worked for me. These recipes are usually jotted down while I am cooking without a net, given to me by friends, or scribbled down while watching cooking shows.
Now, my binders at work are a different story. I have two. One is for recipes from the current menu. They are divided by each dessert item. Between each tab, my assistant will see every recipe needed for a particular item, right down to the garnishes. The second binder is full of archive recipes and notes from dessert specials I have ran in the past. Everything in both books is typed neatly and inserted into a sheet protector. Since I have to be anal at work. I choose to be messy at home. Ying and the yang, ya know?
This rice pud' comes from the scribbly-sloppy book. I truly cannot remember where it came from. I guess recipes written in chicken scratch with unknown origins are the essence of the RRC. I can tell you that if you do chose to try it, you won't be disappointed. It's creamy and cozy. Trevor loved it and has pre-requested it for the next time he is sick. We ate it while snuggled up under fleece blankies, watching the Simpsons. I don't know that you can get more comforting than that.
Rice Pudding
serves 6-8

6 cups milk
1 cup sugar
1/4 tsp salt
1 vanilla bean
2/3 cup long grain white rice
1 lg egg
2 lg egg yolks
1/2 cup raisins or dried fruit (optional)**I omitted them so that my husband wouldn't freak out**
ground cinnamon and nutmeg for sprinkling

In a heavy bottomed pot, slowly bring the milk, sugar, salt, and split vanilla bean to a boil. Stir in the rice with a fork. Cover and simmer gently, stirring occasionally, until rice is quite tender. About 40 minutes. Remove the vanilla bean; scrape the seeds into the rice mixture and stir in.
Pre heat the oven to 400 degrees. Butter a casserole dish. In a bowl, beat the egg, egg yolks, and remaining milk until combined. Add this mixture and the raisins, if using to the rice and stir to combine. Set the baking dish in a roasting pan and place in the center of the oven. Fill with enough hot water to submerge the dish halfway. Bake for 25 minutes, stir gently to redistribute the rice. Bake for another 25 minutes. Sprinkle the rice pudding with cinnamon and nutmeg. Bake for 25 more minutes (total baking time is about 1 1/4 hours, it varies depending on the size of your dish- do not over bake)
Remove from water bath and cool on a wire rack. Serve lukewarm or chilled.
Thanks again to Naomi for hosting this month. She will have the
round up
posted on her blog after the holidays.