Mayan Chocolate Boca Negra with Vanilla Bean Ice Cream
Yaaaay! It's jousting time again! This monthly battle of the foodies is hosted by the lovely Jen, also known as the
Leftover Queen
. It's participants, which include members of Jen's
Leftover Queen Forum
, are all to create a dish including 3 required ingredients. The winner gets bragging rights, a nifty graphic for their blog, and best of all- picks the 3 ingredients for the next month's joust. Ley of
Cilantro and Lime
, kicked ass and took names with her
paneer
, which was created with mushroom, cheese, and herbs as her required props. Ley blessed us with ingredients that both provide a challenge, but go beautifully together: Chocolate, Chiles, and any sort of grain. I heart you Ley, because this means I will get to make one of my all time favorite chocolate treats- baked pudding or "boca negra." It's 1 1/2 tablespoons of flour barely squeeze me into the guidelines.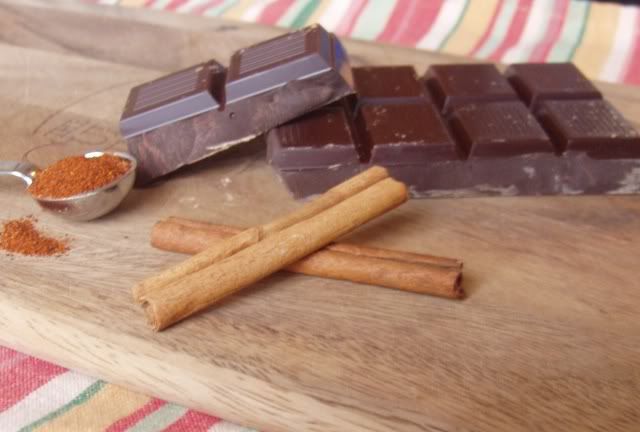 This dessert is not only really easy to put together, but it is sinfully delicious. I make this when I am looking to impress someone. It may not look like much in the photo, but it's one of those things you need to taste to believe. The texture is fudgy, creamy, and souffle-like. The flavors blend together in perfect harmony- not one of them over powers the other. Instead they all bring out each other's best qualities.
That's not even the best thing about this recipe. Unlike it's cranky cousin, the souffle- boca negra batter can be made in a relaxed state of mind. You can bake off just 2 of them, and refrigerate the batter for another time. It keeps for 2 or 3 days. I'm keeping the rest of mine in the freezer, where it should last for a month. Now, I have a fancy schmancy dessert on hand if I need it. I served mine with some just-churned vanilla ice cream this time, but cinnamon ice cream or whipped creme fraiche are also both deelish.
Mayan Chocolate Boca Negra

12 oz. 70% bittersweet chocolate, chopped- use a good one!
8 oz. unsalted butter, cut into cubes
4 oz. Kahlua
1 cup superfine sugar
1/4 tsp orange zest, very finely chopped
1/2 tsp ground cinnamon
1/4 tsp mild Chile powder
5 eggs at room temp
1/4 tsp salt
1/3 cup sugar
1 1/2 T sifted flour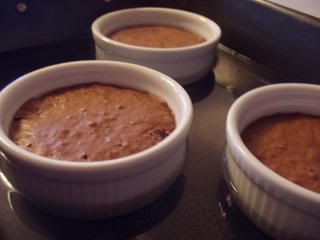 baking
Preheat oven to 325 and have ready 6 ramekins that will fit into a roasting pan. Spray ramekins with pan spray. Fill the roasting pan with hot water until the cups are halfway submerged. Set aside.
Combine the butter and chocolate in a large bowl. Place over a pot of simmering water to create a bain marie. Stir chocolate and butter occasionally until smooth and completely melted. Set aside.
In a saucepan, stir together the Kahlua and 1 cup sugar until it dissolves. Heat until mixture boils. Whisk into chocolate. Stir in orange zest, cinnamon, and chile.
In a standing mixer, or using egg beaters, whip the eggs, salt, and 1/3 of sugar until very light and fluffy. They should be as thick as soft peak egg whites.
Whisk eggs into chocolate. They will deflate some, but that's ok.
Whisk in the sifted flour. The batter will be of pouring consistency.
Divide batter amongst ramekins and bake for 20-25 minutes. They do not rise, but the tops will be dry to the touch and shiny- like brownies.
Remove from the oven. When cool enough to handle, remove them from the water. Serve warm or at room temperature with ice cream or creme fraiche.
Any excess batter can be stored in the refrigerator and baked off at a later time.
Don't forget to head over to the forums during the first week of December to vote for your favorite!
PS- curious about the title of this dessert? It translates into "black mouth"- which completely describes ones appearance after one bite.