...Because you know you love looking at other people's vacation pictures.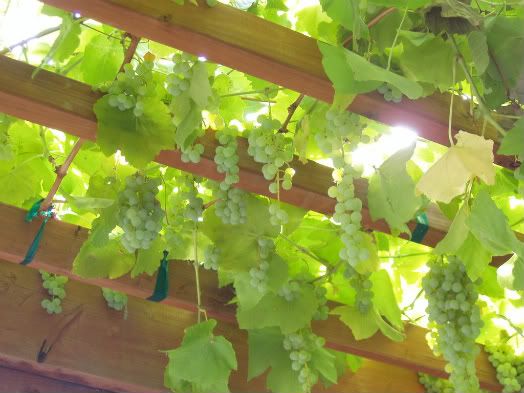 I've been back for a week now, as many of you may have noticed my lurking on your blog. I just haven't had a moment to breathe, let alone unpack, until now. So between loads of laundry, why don't I regail you of the shenanigans that occured in Chelan, Washington's wine country? For those just interested in looking at the pictures- Highlights include getting the last two spots at an amazing wine maker's dinner, drunken karaoke (is there any other kind?), barfing at a farmer's market (I can now check that one off of my life's "To Do" list), and some hardcore Mother/Daughter-bonding/drinking.
The Lake Chelan Valley is located in the North Cascades National Forest and surrounds a 50 mile glacier fed lake. It is 1486 feet at it's deepest point and 1.5 miles at it's widest. Apple, pear, and peach orchirds are everywhere here. Recently, it was decided to replace a few of them with wine grapes. Good thinking! There are now just over a dozen wineries and more to come.
Vin Du Lac
This place is like France. Enough said.
sipping wine under the apple trees
little nibbles, enjoyed with the Syrah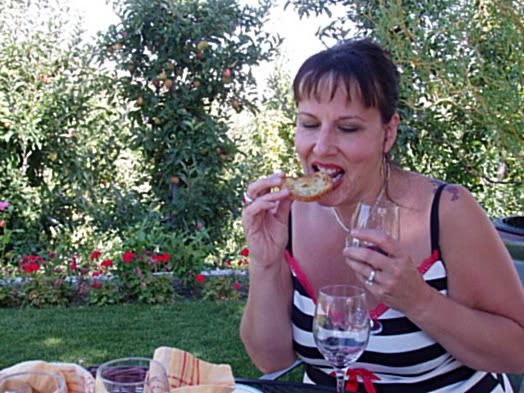 Mom, in her element
Tsillan Cellars Winery
(pronounced "chelan")
I am so pissed off at myself for never taking any pictures here. It is one of the most beautiful wineries in Chelan, looking like a little Tuscan Village. I had some really good reds here, and an awful rose- it was a just little too heavy on the strawberry. Who am I kidding? It tasted like kool-aid.
Tildio Winery
Right when we drove into town, we stopped at a little natural foods store for some cheese. We were trying to make our dinner plans and asked the ponytailed British Hippie shopkeep for suggestions. He pointed us toward Tildio, where we got the last two spots available at the last wine makers dinner of the summer. The meal, view, and company was perfect. However, it was the beginning of my downfall. I had already been to a couple of tastings, and had a few cocktails before this event, where with each coarse, we were served at least 2 full glasses of wine.
Here is the menu:
First:
Yellow and red tomatoes with julienne greens, mint, feta cheese, and green tomato vinaigrette.
Tildio 2007 Sauvignon Blanc
Second:
Zucchini fritters served with baba ghanouj, pesto, and lemons.
Tildio 2006 Chardonnay
Entree:
Grilled steak with sundried tomato relish, corn succotash and mushroom scented farro.
Tildio 2006 Syrah
Dessert:
Nectarine crostada with cherry sauce
Tildio 2007 Riesling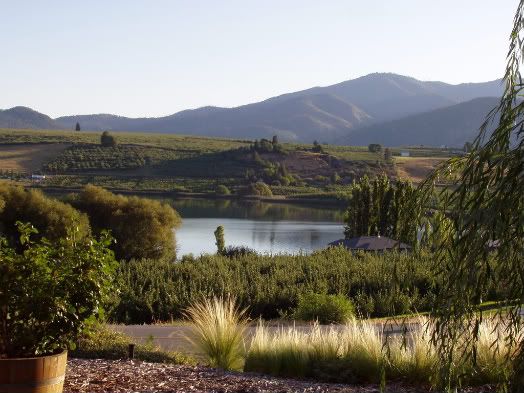 The view from our table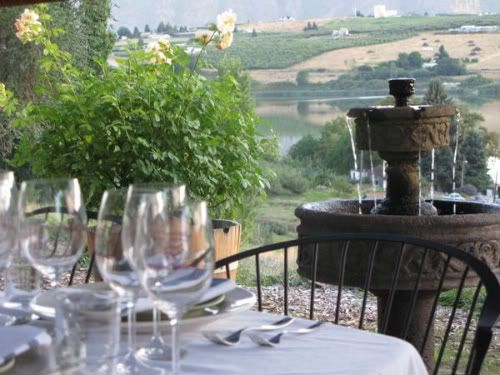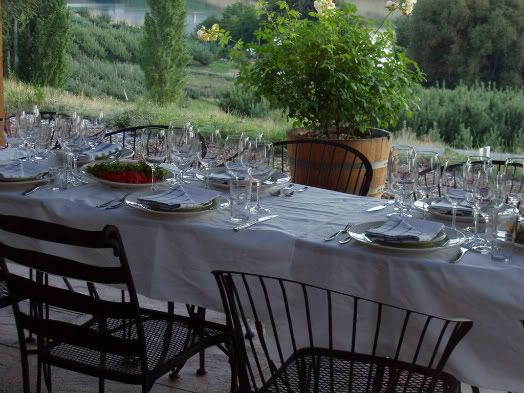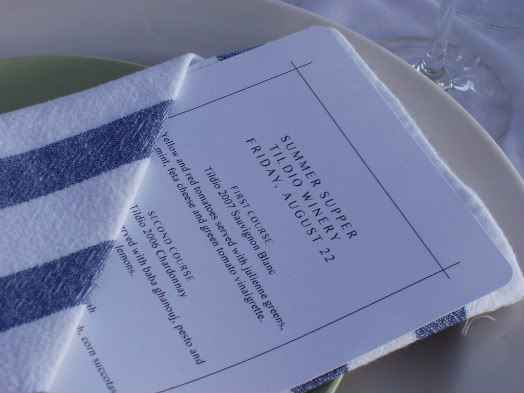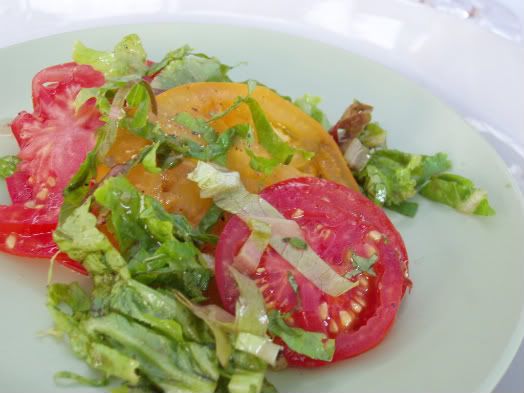 the sun set before I could get any pictures past the first course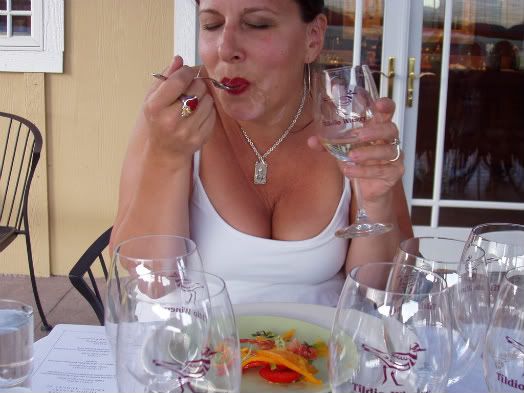 mom enjoying the first course. I have to remember to email this picture to my dad. Grrrawl!
I don't remember the circumstanses of this picture, other than it was 7 or 8 glasses into the dinner. You can't take me anywhere.
After the fabulousness of that dinner, we decided to stop by the little sports bar next to our hotel, where karaoke was in full swing. After all that wine, I was ready for beer. Coors light in the bottle to be exact (what the fuck?????). After a few bottles, I grabbed the mike. I then proceeded to wail, yes,
wail
"Freedom" by George Michael. It's the first time I have ever karaoked by myself. Usually I have a gay guy next to me and it's "Islands in the Stream" Seth- you would have been so proud of me!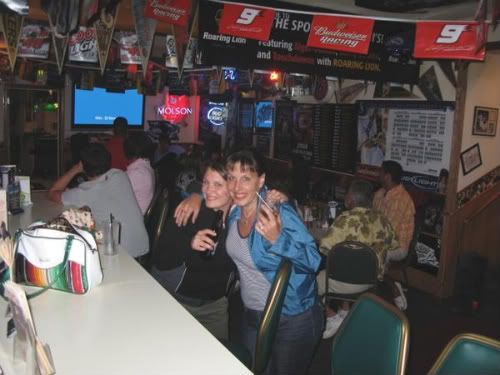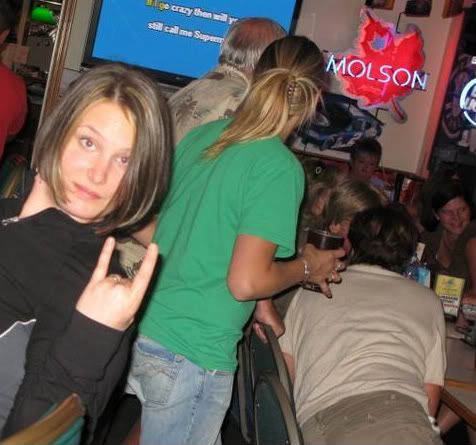 In a few minutes, I'm gonna get up there and turn that mother out.
So. If you're still reading, you may have guessed that I am completely sloshed by now. However, we had plans to get up early and check out the Manson Farmer's Market. We stopped for an awful latte (one thing about Chelan, there is nothing but Starbucks' and horrible coffee stands. Plan to go through withdrawl), and headed to the market. First off, let me just say that I NEVER puke.
Never.
That is my husband's job. It is my job to just have a slight headache and laugh at my puking husband. Well. I got my comeuppance for that. I started by puking up my latte AT THE FARMER'S MARKET. Any of you ever puked at a farmer's market? It is horrbile. It just does not mix with the little jars of jam and fresh fruit. At all.
I composed myself, bought a few jars of Apricot jam, and we went out to breakfast.
I managed to barf several more times over the course of the morning, including the few bites of hashbrowns I managed to eat. I almost never actually made it to the toilet. So glad I brought that febreeze.
The scene of the crime
Raaaaalph!!!
After some serious loafing by the pool, I magically started to feel like eating. By the way- thank you mom for putting up with this wretched behavior. We went on a quest for hangover food.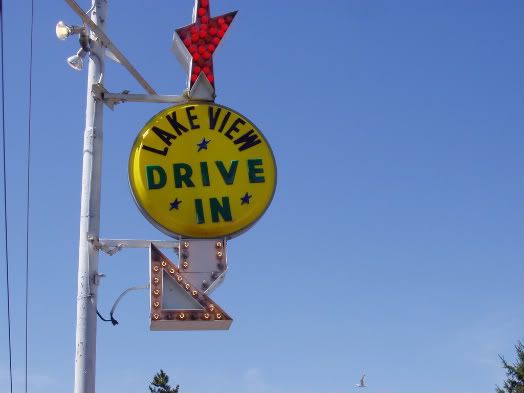 Oh yes. This looks promising.
And....hangover gone. The silo of diet pepsi in particular was like some sort of beautiful healing nectar.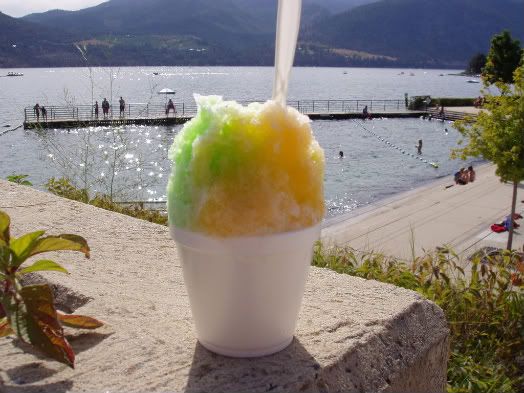 better throw in a shaved ice for good measure.
Finally on the mend and holding down food, it was time for more wine!
KarMa Vineyards and Cave
This place was lovely, and had the best Gewurztraminer I have ever tasted. It was dry and had a mineral taste, rather than the syrupy sweet Gewurztraminers I am used to.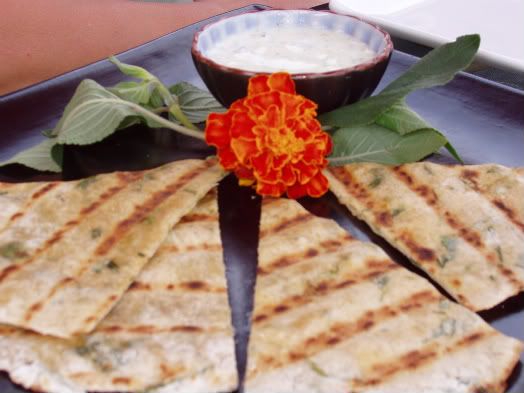 Coriander flatbread and tzatziki with our wine flight. Enjoyed on the patio next to the koi pond.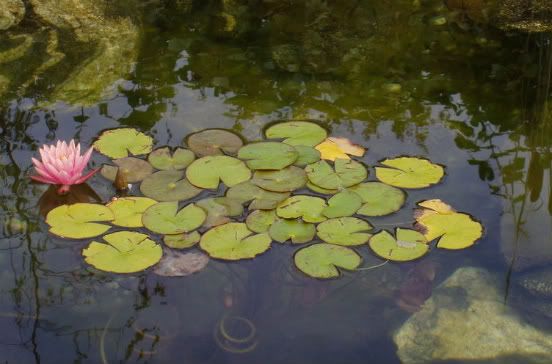 Nefarious Cellars
A cute young couple from Seattle and their dog run this place. Beautiful view from the patio where mom and I drank a glass and debated the best way to roast a chicken.
Chelan Estae Vineyards & Winery
There are no pictures of this place, because it is basically a shack on top of a hill. However, here is where my favorite wines of the trip are made. A 2006 Merlot Rose that had the flavors of a chicken dinner, and the Pinot Noir had a smokiness that I fell in love with. This is one of those little places that would be easy to pass up. But don't. You will end up leaving with cases of wine.
Benson Vineyards Estate Winery
Two blondes listening to Jimmy Buffet pouring a remarkable 8 tasting flight. For free. Plus an gigantic cheese platter, which we ate outside while the weather began to turn stormy. We took this opportunity to call our husbands. We both lied and told them it was 85 degrees and sunny. It was a delight to hear the envy in their voices as they told us that it was raining cats and dogs in Seattle.
We are such bitches.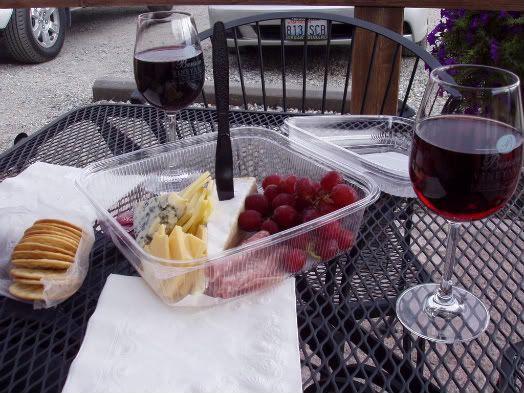 Well folks, thats about it. I could go on forever, but it's time to wrap this baby up. I have things to do today, including getting my butt into the gym. My wasteline will be paying for this trip for the next month.
It was so totally worth it.
Thanks again Mom! That was the most fun I've had all summer.
Next summer: WALLA WALLA!!!