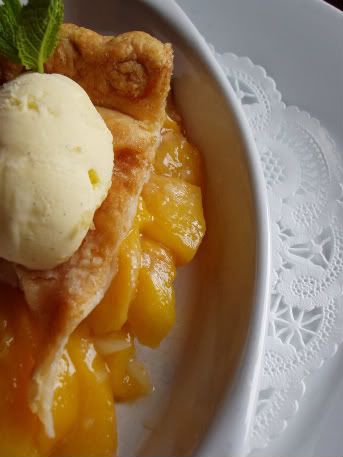 Apologies for taking so long to get this baby posted, I seem to be suffering from lack of hours in the day-itis. Not to mention, I'm trying to get my ass into the gym regularly these days to pay for the summer-long shmorgisborg of bbq'd pork products and booze. Sitting on it editing pictures of pie seemed counter intuitive to my efforts.
Having said that, this pie is too good not to share before the peach's cruelly short season is over. Yeah, it's a little bit of an ugly duckling. It doesn't have the vibrant colors or cut into a tidy slice like some of the others, but the flavor is worth over looking those superficial aesthetic-only qualities.
This is pretty much your all purpose, unadulterated peach pie recipe- meaning unfucked with by mace. I do not care for spices in my peach pie. In fact, it pisses me right off. If ruining peach pie is a behavior that you are into, by all means, add mace. It's a free country. Just don't come crying to me when the delicate peach flavor is besmirched by the taste of metal.
Another thing I don't do is boil the peaches to peel them. I cuss enough already. Making peach pie is a folksy, grandma-like activity. Calling the slimy peel that doesn't seem to "slip right off" after the blanching process a stupid cocksucking mother fucker totally inhibits my pie making chi.
Instead, I invested in an 8$
serrated peeler
- a tool that I adore.
Peaches, peeled without angst.
Also- peach peels are full of flavor. I squeeze the juices from the peels into my pie filling to pump up the deliciousness. Just let the peels fall into a bowl (see above), then pick them up and squish the life out of them.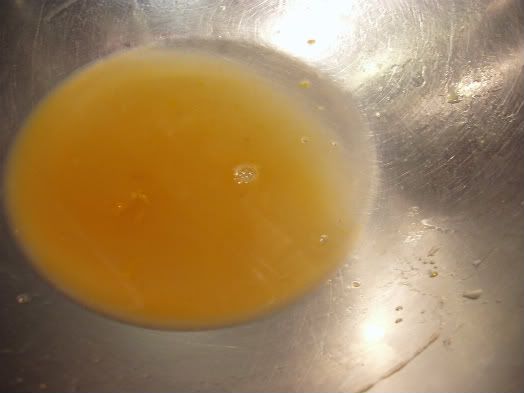 Extracted peel juice. Rich in peachly goodness.
My last piece of advice is, as always, use the best quality fruit available- or don't even bother. I know I say this all the time, but it's the golden rule for good pie. For Northwest readers, look for Pence Orchard peaches out of Wapato, WA. They're huge, freestone, and juicy.
...And don't worry about the fact that it's kind of hideous looking.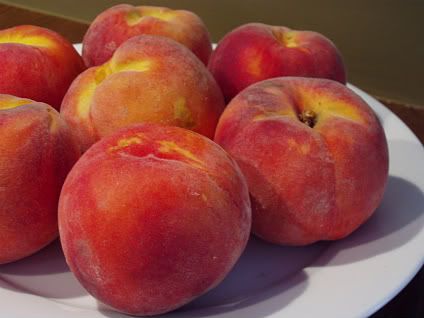 Peach Pie
7 large peaches
2 Tb fresh lemon juice
1/2 cup sugar
1/3 cup cornstarch
1/4 tsp salt
2 Tb cold unsalted butter, cut into cubes
your favorite pie dough- enough for a 9" double crust pie
In a small bowl, whisk together the sugar, starch, and salt. Set aside. Peel the peaches. Squeeze the juice from the peach peels into a large bowl. Slice the peaches and toss with the reserved peel juice and lemon juice. Add the dry ingredients and stir gently with a spatula until the dry ingredients are absorbed.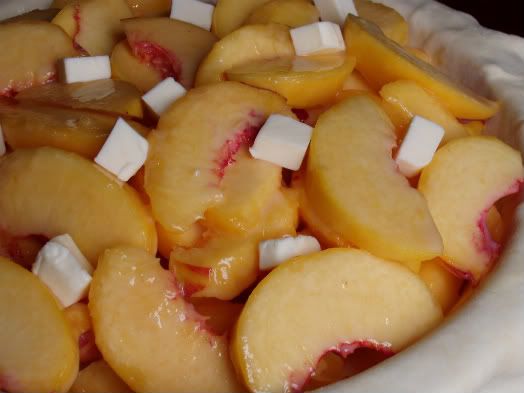 Place filling into bottom crust and dot with butter. Brush over hanging dough with water and adhere the top crust. Fold the edges under and form a crimped pattern. Sprinkle with sugar and bake at 375 degrees for 45 minutes. Turn heat down to 325 and bake for 30 minutes.