This will be a long post where you will begin to wonder if I am in training to be an olympic swimmer.
Yesterday, I ventured Northward to Ye Olde Towne of Everett to visit my sister Brooke (and author of the revamped blog
brookielizabeth
, formerly The Diet Cronichles. She realized that blogging about dieting is totally f'ing boring). I am always happy to visit Everett and all of it's charm- but on this day, I had an alterior motive.
THIS: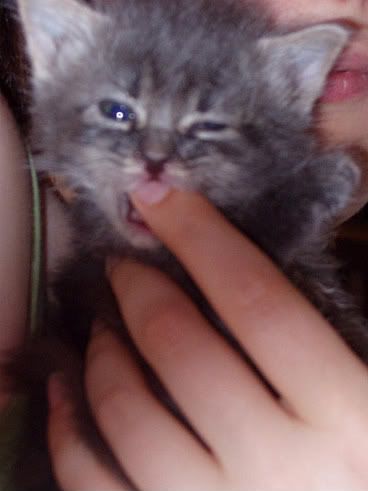 D'aaaaaaaaaw!!!!!
That tiny little creature is Brooke and CK's latest addition to the militia of cats they are forming. Baby Grendel is just 4 weeks old. Brooke and CK rescued her a little more than a week ago, because a teensy tiny kitten found clinging to life in the woods and at risk of being euthanized if a home is not found ASAP is more than Brooke's heart can take. They have 3 cats at home already, but
COME ON
: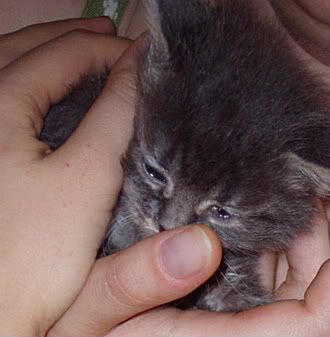 Tiny cat-creature is roughly the size of a gerbal
After cooing over this little bundle of grey fluff for about 2 hours, we went out to brunch at The Vintage where the constant parade of delicious food began. Brooke took this opportunity to disclose her disdain for drinking hot beverages from clear mugs. Isn't that wierd? I really don't care if my coffee is served in a clear or ceramic mug. But she keeps looking down at her tea and pursing her lips. Omelettes and my bloody mary however, were well executed. My vegetable and cheese omlelette was not overly cheesy, full of decent vegetables, and cooked in a clean pan. While I may not care what vessel you choose to serve my hot beverage in, I do care if my eggs are greasy and redolent of old sausage. I care bigtime.
Cleary displeased
Next stop: Farmer's market for the clams and blackberries needed for the sweet ass lunch we were devising. The Everett market is located on the marina. Beautiful view, THRONGS of people. I took a picture of the view from the market, but any actual pictures of produce would have been blockaded by the backsides of the locals. Not good for foodporn.
The Everett Farmer's Market. Not pictured: The farmers or the market
After the market, and a long ass drive all over Mukelteo getting lost on our way to this cool grocery store for wine and pancetta and stuff (which was totally worth the time it took to find the place) we were hungry again. We got home and ripped into a little wheel of camembert and yukon gold potato bread. Brooke opened up a jar of gooseberry preserves and we procceded to gorge ourselves. I would have photographed the pure, simplistic beauty of this snack, but we were too busy mmmm-ing and chomping. Second occurance of gluttenous behavior.
More cooing over tiny cat, and I am then commissioned to make a blackberry cobbler. Recipe was basically pulled out of my ass and god damn if it wasn't some deliciousness. But more on that later. While the cobbler baked, we steamed up those clams.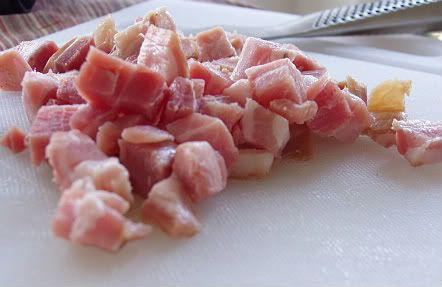 sigh.
We sauteed some pancetta and small onions from the garden, added garlic, diced freah tomato, chile flakes, white wine, and the clams. Once they opened, we hit it with some butter, fresh parsley (also from Brooke's garden- amazingly flavorful), lemon juice and a little cream. They were enjoyed outside on a picnic table, with cold beer and what potato bread we didn't wolf down with the camembert. Perfect Lunch...perhaps ate too much.
Check out Brooke's
blog
for more in depth information on those clams (her post should be up soon). And now, on to that cobbler. I mentioned in my last post that this year's blackberry crop has been stupendous. This cobbler really helped bring that fact to light. I did not have a recipe to work with, but this turned out quite good and I insist you make it if you consider yourself to be in any way a blackberry fan. Juicy filling, balanced sweetness, and a tender textured biscuit. Cornmeal= one of my favorite things to include in pastries. I jotted down the recipe as I went and am 99.9% sure of it's accuracy....
Blackberry Cobbler
Cornmeal Sweet Biscuit:
1 1/2 cup flour
1/2 cup cornmeal, yellow or white
1/4 cup sugar
2 tsp baking powder
1/4 tsp kosher salt
4 oz cold unsalted butter, cut into cubes
1- 1/3(ish) cup heavy cream
Filling:
5 heaping pints fresh blackberries (buy a half flat and eat the remaining pint as we did)
pinch salt
1/2 cup sugar
3 T cornstarch
2 T fresh lemon juice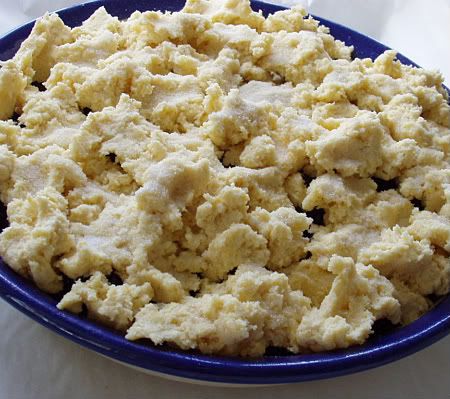 amply cobbled with cornmeal sweet biscuit and ready to bake....
Butter a large pyrex pie dish and set aside. Pre heat the oven to 350 degrees. In a small bowl, whisk together the cornstarch, sugar, and salt. In a large bowl, toss the berries with the lemon juice. Add the dry ingredients and gently toss until absorbed with juice. Spoon filling into baking dish and set aside.
In a food processor, pulse the dry ingredients with the butter until mixture is crumbly and the butter is pea sized. Dump the mixture into a large bowl and add about 1 cup of cream. Stir with a wooden spoon until a loose dough forms. Add more cream as needed. drop silver dollar-sized pieces of dough onto the berries until surface is covered. There will be a few clumps of dough left- bake them off on the same sheet pan and eat them (quite good with the leftover camembert and gooseberry preserves from ealier- I told you we were pigs!).
Sprinkle the surface with sugar (turbonado if you have it). Bake in a 350 degree oven for (and here is where I'm iffy) about 45 minutes. We were eating clams and drinking beer, so I kind of lost track of time. It's done when there is no goo under the surface of the biscuit and the fruit is bubbly.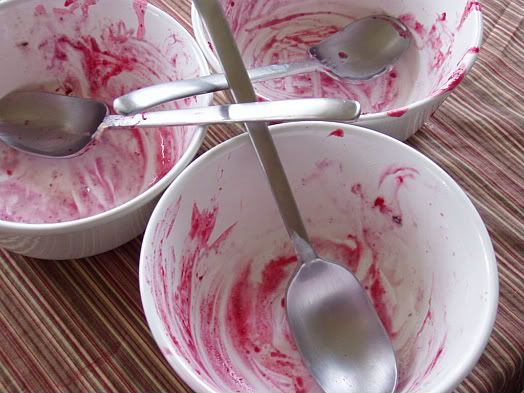 as you can see, this cobbler was "just okay"
After giant bowls of cobbler with huge scoops of ice cream, I developed that uncomforably full feeling. Where if someone even taps you on the tummy, you will barf everywhere. It was time to go home and pass out.
On my way home I decided to blow off the invitation to a friends "bacon tasting" where he would be roasting pork shoulder and serving several incarnations of homemade bacon. I had totally meant to stop by, but the idea of even being near more food made me dizzy. As I walked in my front door, I was greeted by my husband, wondering what we were doing for dinner.
Dinner.
And now, if you would all excuse me, I'm going to spend the next 4 days in a food coma.