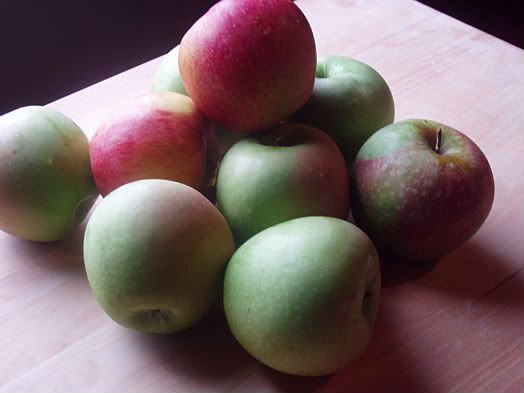 I heart Washington State
I didn't mean to take such a hiatus from blogging, but here it is over two weeks since my last post! Woops. I wouldn't of had anything interesting to post anyway, as a few weeks ago, I put myself on a for reals-no foolie diet....oh- pardon me, I mean *lifestyle change*....sniffle. I need either a hug or a huge beer and a cheeseburger. Or both. It was definitely time to trim down between the summertime BBQ meat-fest and the holiday smorgasbord. I've been jogging and taking pilates classes like a mother fucker. And I swear to god if I have to look at another boneless-skinless chicken breast I'm going to fucking shoot myself.
I've lost 15 pounds.
I need PIE.
So heres the deal with my apple pie. I've been tinkering around with this recipe for close to 8 years. I've tried variations on the spices, amounts of sugar, and most important: the apple varieties. What I've come with is a perfect apple pie for my taste. You may have a differing opinion on what "perfect" means in an apple pie, so don't give me that stinky eye ball if you don't like lemon zest, or feel that an apple pie without allspice is a crime against humanity.
These are my requirements for a perfect apple pie:
1. Use a blend of apples. Mostly a firm, tart apple (granny smith or newton pippin) and a few sweet apples that soften a bit more after baking (such as a jonagold or a braeburn). The sweet apples will soften to almost a sauce like consistency while the tart ones will retain both their shape and a slight crunch.
2. 86 the butter. I know. Crazy. This is my one and only fruit pie recipe that has no butter in the filling. Personally, I think the apples taste brighter with out it.
3. Once you have tossed the apples with the sugar, spices, and lemon juice. Let it sit for about 15 minutes before filling your pie shell. This will eliminate the dreaded gap of space between the baked top crust and the filling.
4. Starch should be minimal. Apples are full of pectin.
5. Add both lemon juice (as per usual) and zest. It brings the apples alive.
6. Easy on that sugar, bucko. I really really really hate apple pie that is too sweet. Really.
7. My spices of choice are cinnamon, clove, and nutmeg. I have tried just about every baking spice out there for this recipe and these, ho-hum as they may sound are my favorites. You may feel differently, and that is between you, your pie, and your god.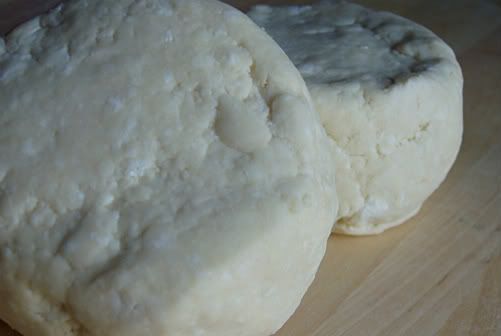 Now that I have indulged in a much needed dose of fat and sugar, I am feeling much less bitchy...and more in the mood to blog. Break is over, I promise!
Apple pie filling

3# tart apples (granny smith or pippin)
1# sweet apples (braeburn or jonagold)
2 Tb lemon juice
zest of 1/2 of a lemon
2/3 cup granulated sugar
2 tsp cornstarch
1 tsp cinnamon
1/4 tsp nutmeg- freshly grated
1/8 tsp ground clove
1/4 tsp salt

Peel and core the apples. Slice into 1/2" slices and toss with the lemon juice and zest. In a small bowl, stir together the sugar, starch, salt, and spices. Toss with the apples and let sit for 15 minutes. Fill unbaked pie shell, apply top crust, and bake.