Okay. I'm done hibernating now.
My last post was on New years eve. I'd say it's time for me to quit neglecting my blog. I hope my small group of readers can forgive my absence. I promised the hiatus was over and I guess I kind of lied. I swear it was not intentional. Can we kiss and make up now?
It's been an eventful year so far. I was offered a great opportunity at work, so that is where my head has been for while. The pie lady would just have to wait. I was asked if I would be interested in taking over the pastry department for our sister restaurant Crow, as well as running the helm at Betty (for those who are interested, here is our
website
).
I accepted, of course, because I would be an idiot to turn down such an incredible proposal. But truth be told, I was terrified. In a good way. The thought of wrapping my brain around two restaurants was a bit scary, but I have found that I work best under pressure, so carpe diem, right?
I am pleased to announce that it's going great. I am starting to get comfy in my new position and am ready to start devoting more free time to this here blog.
So without further ado, hows about a recipe?
Can I just say hooray for Rhubarb? It showed up early here in the Northwest. Just when I was starting to think "If I have to look at another crappy pear, I will just die" that beautiful red vegetable (yes, rhubarb is a vegetable) mosied it's way into the produce selection looking more crimson and vibrant than ever. Don't get me wrong, I love pears, quinces, and apples, but by February I start to disdain them.
I have already posted
Rhubarb pie
in this blog's infancy (the pictures make me cringe), so here is another one of my favorite ways to celebrate fruit- a crumble. I make crumbles at home all the time, as they are ridiculously easy. You will most likely have everything you need (sans the fruit) sitting on your pantry shelf. It takes minutes to put together and you can make a huge batch of the topping and freeze it for a last minute dessert.
There is a special ingredient in my filling. I am not usually a fan of rhubarb muddied with strawberries. This is strictly a personal taste thing. I can't STAND baking strawberries. They turn a kind of milky pink color and the texture just bothers me. I think baking a strawberry is sacrilegious.
HOWEVER, a little strawberry puree- just a smidge now- really pumps up the flavor of this filling. It adds sweetness which is nice, so you can reduce the sugar (rhubarb usually needs
a lot
of sugar), and it adds a little pectin and color. I use a brand available only by mail to the public (I think) called
perfect puree
. Those who work in kitchens know that it's easily found at many of our produce purveyors. If you like, you can make your own using frozen strawberries, a blender, and a teensy pinch of sugar. Or, you can omit the puree and add a few more tablespoons of sugar. Either way, it will be delicious.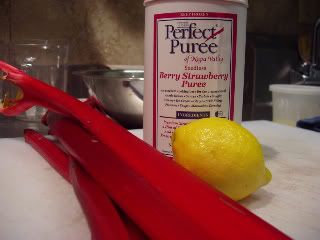 The cherry blossoms are blooming in Seattle, it's been sunny almost as much as it's been rainy, and today I didn't need a coat.
So cozy up with a warm bowl of this crumble (because it's still pretty damn cold out there!), a cup of coffee, and join me in my elation. Spring is just a few days away! Yay!
Rhubarb Crumble
makes 12 individual ramekins or 1 large pan
Topping:
1/4 cup rolled oats
1 1/4 cup flour
1/4 cup brown sugar
1/4 cup granulated sugar
1/4 tsp ground ginger
1/2 tsp salt
4 oz butter, melted and cooled
In a large bowl, mix together the dry ingredients. Add the butter and mix with your hands until you have chunky crumbs. Refrigerate while you prepare the filling.
Filling:
2# 4 oz cleaned rhubarb, ends trimmed and sliced into 1" pieces (give or take-depending on width of the stalks)
2 T fresh lemon juice
1/3 cup strawberry puree*
1 1/3 cup sugar
4 T cornstarch
1/4 tsp salt
2 oz melted butter, plus more for brushing pan
Pre heat the oven to 375 degrees. Butter 12 ramekins, or a 13" by 9" pyrex baking dish and set aside.
In a large bowl, toss rhubarb with the puree (if using) and lemon juice. In a separate small bowl, whisk together the salt, sugar and cornstarch. Sprinkle over the fruit and toss until absorbed. Stir in the melted butter and pour into the baking dish or ramekins. Evenly sprinkle the crumble topping over the rhubarb.
Bake for 25 minutes at 375, then turn oven down to 350 and continue baking for an additional 20-25 minutes. Topping will be golden brown and juices will be bubbly.

*if you are omitting the puree, increase the sugar to 1 1/2 cups