Something has been missing from The Pie Lady. Blog posts!
December has been a strange month. More like a comedy of errors. In a matter of a few days the alternator went out on our car, my wallet was stolen, our refrigerator broke, and our computer both caught some sort of virus and the hard drive crashed. Needless to say, I have not had the opportunity to blog as much as I would like to. It's been such a chapper to have to put it aside just when it's just getting off the ground- and I miss my new blogging buddies!
Things are starting to calm down around here- car fixed, fridge fixed, driver's licence/credit cards renewed (the punks managed to use my card at a gas station before I had a chance to cancel it. Happy holidays to you too, arshole).
The final clusterphuk to deal with is the computer. Luckily, I do have access to one for the time being. So, while posts may not be as frequent as usual- the hiatus is over.
Now that I've explained myself- I will move on to the yummiest sandwich bread that I have ever tasted. I know- my last post was bread, but trust me. I would not dare to be so redundant unless it was worth it.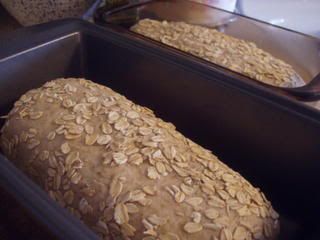 I doubt I have mentioned this, but nothing tickles my fancy more than getting my Cooks Illustrated in the mail. I have subscribed for 3 years, and find myself buying less general cookbooks because of it. The recipes in Cooks Illustrated are so well tested and often offer variations, so once I've tried it, I
(usually)
don't feel the need to seek out other versions.
The multigrain sandwich bread caught my eye in the March/April '06 issue. The test cook had the brilliant idea to use 7 grain cereal mix, rather than hunting them down individually. This is one of the easiest bread recipes I know, so I don't mind putting it together the day after the holiday cooking marathon...(by the way- Happy Holidays everyone).
Just in time for turkey or roast beef leftovers, this sandwich bread tastes better than anything you can buy in the grocery store. Leftovers on homemade bread makes you feel like you're having a meal just as special as the night before.
Easy Multigrain Sandwich Bread- Cooks Illustrated #79, Mar/Apr '06

6 1/4 oz (1 1/4 cups) 7-grain hot cereal mix (Bob's Red Mill or Arrowhead Mills)
20 oz (2 1/2 cups) boiling water
15 oz (3 cups) unbleached all-purpose flour
7 1/2 oz (1 1/2 cups) whole wheat flour
4 T honey
4 T butter, melted and cooled slightly
2 1/2 tsp instant yeast
1 T fine sea salt
3/4 cup unsalted sunflower or pumpkin seeds (*I like sunflower the best)
1/2 cup old-fashioned rolled oats

1. Place cereal mix in bowl of standing mixer and pour boiling water over it; let stand, stirring occasionally, until mixture cools to 100 degrees and resembles thick porridge, about 1 hour. Whisk flours together in a medium bowl.

2. Once grain mixture has cooled, add honey, melted butter, and yeast and stir to combine. Attach bowl to standing mixer fitted with dough hook. With mixer running on low speed, add flours, 1/2 cup at a time, and knead until dough forms ball, 1 1/2 to 2 minutes; cover bowl with plastic and let dough rest 20 minutes. Add salt and knead on medium-low speed until dough clears sides of bowl, 3 to 4 minutes (if it does not clear sides, add 2 to 3 T additional all-purpose flour and continue mixing); continue to knead dough for 5 minutes. Add seeds and knead another 15 seconds. Transfer dough to floured work surface and knead by hand until seeds are dispersed evenly and dough forms smooth, taut ball. Place dough into a greased container with 4-qt capacity; cover with plastic and allow to rise until doubled, 45 to 60 minutes.

3. Adjust oven rack to middle position; heat oven to 375 degrees. Spray 2 9by 5- inch loaf pans with nonstick cooking spray. Transfer dough to lightly floured work surface and pat into a 12 by 9- inch rectangle; cut in half crosswise with knife or bench scraper. Roll each portion into a log and pinch the seam closed. Spray each log with water and roll in the oats. Place in loaf pans, cover lightly with plastic wrap and let rise until almost doubled in size, 30 to 40 minutes.

4. Bake until internal temperature registers 200 degrees on an instant read thermometer, 35 to 40 minutes. Remove loaves from pans and cool on wire rack before slicing, about 3 hours.